Owls even season record with 75-70 win over Ragin' Cajuns
Two days, two wins, and one .500 mark.
Behind the trio of Greg Gantt, Stefan Moody, and Pablo Bertone, FAU picked up its second victory in as many days, defeating Sun Belt conference opponent Louisiana-Lafayette, 75-70, Thursday night at The Burrow.
The Owls evened their season record to 8-8, and improved to 3-2 in conference play.
"We needed this one," Owls coach Mike Jarvis said. "We went through a tough two week stretch. A lot of planes. A lot of buses. A lot of hotels. I'm pleased we've won three out of the last four."
Gantt, Moody, and Bertone totaled 51 points on a combined 18-39 shooting (46 percent). Gantt, the Owls' all-time leading scorer, led the way with 23 points, his seventh consecutive 20-point outing.
"Greg is playing at a very high level and scoring at a very, very high rate," Jarvis said. "He's now fifth in the country in scoring. He's got to keep moving and doing his thing."
Moody turned in one of his finest performances of the season, recording 16 points and a career-high nine rebounds. Bertone chipped in with 12 points, also securing a team-high of three assists.
Gantt couldn't have been happier with his teammates' effort.
"We got some really quality minutes out of our guys," Gantt said. "Stefan was hitting his shots, Pablo was hitting shots. Give them the ball and the offense will come."
Other than the aforementioned players, though, FAU somewhat struggled against the Ragin' Cajuns' press defense and inside offensive attack.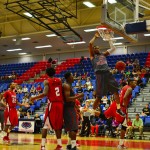 However, FAU, who went to halftime holding a 12-point advantage, capitalized on ULL's mistakes, scoring 19 points off 12 turnovers. They also received 15 points from a bench that was without guard Richard Morrow (concussion).
Perhaps most importantly, the Owls were nearly impeccable from the free throw line (18-21). They're now leading the league in free throw shooting, a significant factor in their recent success.
"We keep shooting like that and we're going to give ourselves a chance," Jarvis said.
With a week off, FAU finally has a chance to rest and gear up for a major stretch run. Four of their next six contests are on the road, including a tough test upcoming against Middle Tennessee State (11-3), the conference's top dog.
"This is probably our biggest trip of the year," Gantt. "If we knock them off, we're in a much better position."
Jarvis likes what he's getting from his squad and seems eager for what the future holds.
"We're starting to come together," Jarvis said. "I see a lot of cohesiveness. But we're going to learn a lot about ourselves over the next few weeks."
The Owls hit the road to play Middle Tennessee State on Thursday, Jan. 10 at 8 p.m.