Owls dip to 8-9 with 62-52 loss to Middle Tennessee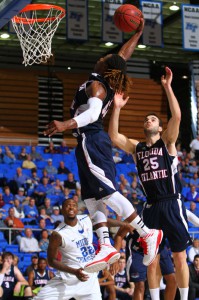 Much like their Lady Owls counterparts, FAU men's basketball came up short against a top conference opponent.
Despite a game-high of 23 points by guard Greg Gantt, the Owls suffered a double-digit defeat to Sun Belt conference leader Middle Tennessee, 62-52. On Wednesday, the women's team lost 73-59 to the Blue Raiders.
It was Gantt's eighth consecutive game with at least 20 points.
Fellow guard Stefan Moody, who has started the last three games after coming off the bench for the entire month of December, scored 18 points and grabbed five rebounds. Gantt and Moody, however, received little offensive help from the rest of the Owls' starters.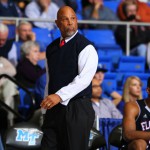 Guard Pablo Bertone and forwards Jordan McCoy and Kelvin Penn combined for just five points. The trio had more turnovers (3) than buckets (2).
As a consequence of Moody's promotion to starter, FAU's bench chipped in a meager six points, three of which came on a late three-point attempt by guard Jackson Trapp. Center Dragan Sekelja was held scoreless for the fifth time this season.
As a team, the Owls shot nearly 41 percent from the field, failing to establish any sort of rhythm against Middle Tennessee. They fell well short of their 65 points per game average, missed six free throws, and committed 14 turnovers.
The loss snapped FAU's two-game winning streak, dropping their overall record to 8-9 and conference mark to 3-3.
FAU plays at Western Kentucky on Saturday, Jan. 12 at 5 p.m.