Men's basketball: Owls defeat Hofstra 61-57
New year, new uniforms, new results.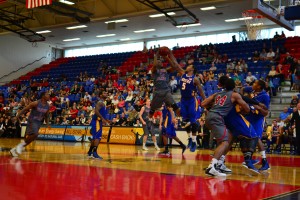 Returning to The Burrow on Tuesday for the final nonconference game of the season, the gray-clad Owls improved their record to 7-8 with a narrow 61-57 win over the Hofstra Pride (3-10).
Led by guard Greg Gantt's fifth straight 20-point outing, the Owls rallied from a seven-point halftime deficit and overcame 12 lead changes to squeak by their Colonial conference opponent.
"It was a really good team win and we can build off of that," Gantt said.
Gantt, now FAU's all-time leading scorer, recorded a game-high of 24 points on 8-18 shooting. He drained three 3-pointers, including a bucket that gave the Owls a 57-55 advantage with 4:20 remaining.
After hitting that shot, the game remained scoreless for the better part of three minutes. However, Gantt said he reminded himself to stay focused and preserve the victory.
"I said to myself I was going to do everything I could do," Gantt said. "Communicate with my teammates on defense and make sure we all have the same mindset."
Aside from Gantt, FAU got solid contributions from three guards: Stefan Moody, Cavon Baker, and Richard Morrow.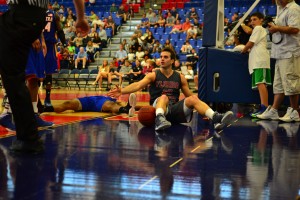 Moody totaled 16 points, 7 rebounds, and 3 assists. Both Baker and Morrow came off the bench to apply good interior defense and ice the game from the free-throw line.
"(Rich) has a very good body, very physical and can play really good defense," Gantt said. "That was a big plus off the bench. For him and Cavon to knock free throws down with that confidence showed a lot. I hope they keep it up."
Following a lackluster first half, the Owls began the second half on an 11-3 run, playing with noticeably more energy. This prompted an impassioned plea from Owls head coach Mike Jarvis at halftime.
"Just go get the ball," Jarvis said to his squad. "Stop waiting for something else to make a play and go get it. We could've won by double figures if we were just more consistent."
Despite the victory, FAU did not shoot well (36.4 percent), going cold for a large portion of the first half. Hofstra also won the battle in the paint (14 offensive rebounds and 24 points), connecting on four "and-one" shots.
With four consecutive Sun Belt contests upcoming, the Owls, one game under .500, have a chance to climb up the standings.
It was only FAU's second win in its last six games, coming on the heels of a one-point loss to ULM three days ago. Owls coach Mike Jarvis was happy to ring in 2013 on a positive note.
"We needed a win, a character win, a gutty win," Jarvis said. "Finally we got one of those."
FAU plays at home against Louisiana-Lafayette on Thursday, Jan. 3 at 7 p.m.