Spending a day at practice — aka Camp Jarvis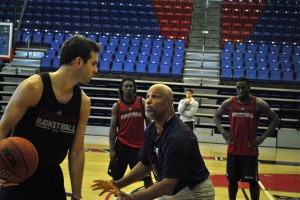 With eight new players arriving and six departing, FAU men's basketball is being picked by analysts to finish anywhere between fourth and last place in the Sun Belt Conference East division.
While head coach Mike Jarvis isn't surprised by the predictions, he also isn't fazed by them.
His squad has more newcomers than returning players, but the competitive Jarvis sees a teaching challenge. In a golf cart outside of The Burrow, he explains this will be his youngest team since his days coaching future NBA lottery picks such as Patrick Ewing and Rumeal Robinson during the 1980s at Cambridge Rindge and Latin School.
Jarvis believes the incoming class, highlighted by Chris Bryant and Stefan Moody, has the potential to be one of the best ever at FAU. But before they can start racking up stats and wins, the new guys have to pass Camp Jarvis.
***
FAU forward DeVonte Thornton was an All-State selection in Georgia last year, his final year of high school. You wouldn't know that based on the way Jarvis got in his mug after a play one day in training camp.
Late in practice, Thornton is coming down on a screen from the sideline, but not moving as aggressively as Jarvis wants. Immediately after Thornton's lackadaisical effort, Jarvis' eyes bulge out as he blows his whistle.
"Gimme a pushup," Jarvis shouts at the 6-foot-8 185 pound freshman.
Before Thornton even finishes, he interrupts with a quip.
"That's how many rebounds you have!" Jarvis says as he storms away.
Jarvis isn't a bully to the freshmen and newcomers. He's an equal opportunist with his criticism. Seasoned seniors get his wrath too if they don't execute up to his standards, even if they're the best returning player.
***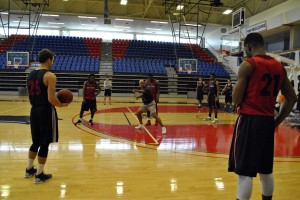 For the latter half of another practice, the team is divided into two units: Team Blue and Team Red.
Besides sophomore forward Kelvin Penn, Team Blue (Chris Bryant, Jackson Trapp, Thornton and Richard Morrow) is full of fresh faces.
Team Red, meanwhile, is comprised of a trio of key contributors from last season (Greg Gantt, Pablo Bertone and Jordan McCoy), to go along with Dragan Sekelja and freshman Cavon Baker.
Sharpshooter Gantt is 265 points away from being FAU's all-time leading scorer, but Jarvis decides to make an example out of his star player during a set.
On one play, Gantt receives the ball on the wing. Instead of making the simple pass to Baker, he decides to swing it diagonally across the court instead. The end result is an off balance shot from McCoy which clanks off the rim.
"Greg, was your intention to hand off to Cavon?" Jarvis sarcastically asks.
A subdued Gantt quietly nods his head.
"What do you call then?" he asks Gantt if he wants to alert Baker of his motive. "Handoff."
Jarvis isn't afraid to get into the mix either.
Another play calls for Bryant to set a pick on McCoy. The freshman didn't get the job done properly, so Jarvis assumes his role, springing his 67-year-old body into action to screen off McCoy.
"That's how you need to do it," Jarvis says.
***
Jarvis decides to up the ante for the final few minutes of practice. The first unit to score five points wins.
This triggers a new notch of intensity.
The activity level is now at a frantic pace both offensively and defensively. The ball is being whipped across the court like a plastic bag in a tornado. It's finding its way to everyone — except the big men.
Dragan Sekelja is setting up on the block too far out to make an efficient post move. Instead of calling out the point guards for not force feeding, Jarvis explains it's the front court players' responsibility to go after the ball.
"When we post," Jarvis says with his outstretched arms, mimicking the position the bigs need to have, "we should be looking for the ball."
The final play of the scrimmage sums up the energy the Owls are hoping will carry through when the season begins Nov. 11 at North Carolina. Jackson Trapp pushes the ball down the court and threads a pass down the middle to a cutting DeVonte Thornton. Thornton tries to scoop in a layup but is viciously swatted by transfer Justin Raffington.
Jarvis' typical approach is tough love, but he'll give props when they're due.
"Good pass, Jackson [Trapp], good pass," Jarvis says. "OK, c'mon guys let's huddle up."
After a few minutes of private discussion, the team puts their hands in and yells "Together."
***
Together is the only way a team which won 11 games last season will recover to be at least competitive this year. The individual talent is young and raw, capable of scoring outbursts at any given moment.
Yet, if you listened hard enough to the closing huddle, you could hear assistant coach Tim Kaine preaching to the players the only way to win consistently is to play tenacious defense. Top assistant coach Mike Jarvis II tells me soon after that this team needs to play solid defense, citing increased competitiveness within the conference with the likes of Western Kentucky, Middle Tennessee and North Texas lurking on the schedule.
The main man in charge carries such poise he doesn't bother mentioning other schools to his team. It's his unflappable confidence which could enable this team to over exceed expectations.
As Jarvis struts out of the gym, clipboard lodged under his armpit, he seemingly has no care in the world.
"Sup, babe," he asks me.
If he continues to mold his new squad the right way, after the end of this season, what's up will be national respect for Mike Jarvis and his Owls.