Men's Basketball: Former Owls guard Dennis Mavin transferring to FIU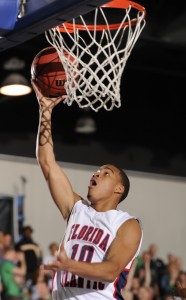 It appears Dennis Mavin is leaving FAU but staying in South Florida.
Mavin, a 6-foot-3 sophomore guard, may be transferring to FIU, according to his Twitter page. "Every end is a new beginning!!" he tweeted along with a picture of FIU's logo. Mavin's Twitter bio now lists FIU as his school.
If he leaves, he will redshirt, missing the entire 2012-2013 season.
FIU fired head coach Isiah Thomas after last season. Panthers players were so upset they walked out of the annual athletics banquet and wrote a 1,036 word letter explaining why Thomas should have been kept.
Mavin is one of six departing players. Kore White (transferred to USF), Omari Grier (transferred to Bradley), Ray Taylor (bypassed senior season and withdrew name from NBA Draft), Alex Tucker (graduated) and Shavar Richardson (graduated) are the others.
Returning Owls guard Greg Gantt believed a big reason for FAU's 11-19 was dissention among the players.
"There's been too many personal issues on the team that we haven't been able to deal with and put aside and play basketball," Gantt said less than a week after a 70-55 loss to Arkansas State in the Sun Belt Tournament.
Gantt, a senior, had no hard feelings for Mavin, his summer workout partner the last two years,  leaving the Owls for another Sun Belt team. On April 16, Mavin announced on Facebook he was transferring.
"I wish u the best my brother. Love u bro," Gantt tweeted Mavin last week before the announcement.
Head coach Mike Jarvis is bringing in seven new players in the hopes of a more successful team in the 2012-2013 season. He hinted his team did not have the proper priorities in place last year.
"Our mindsets gotta be … we're gonna win the game. And I'm not worried about how many points I'm gonna get. I'm not worried about how many minutes I'm playing. I'm not worrying about how many shots I get. I'm not worrying about how pretty I look. I wanna win the game," Jarvis said months after the season ended. "We had too many guys thinking about themselves. Very selfish team this year."
Jarvis' comments about minutes could be one of the reasons Mavin transferred. He played just 13.2 minutes per game last season but was the Owls most aggressive player on offense, attempting 73 free throws for the season, 18 more than second place Kore White, who played 23.2 minutes per game.