After a 56 point loss to end last season, Kellie Lewis-Jay arrives to remake the Owls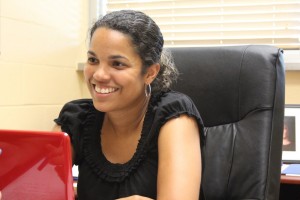 FAU's new women's basketball coach is still adjusting to life in South Florida. However, between the clutter of boxes, papers and folders in her new office she takes a moment to reminisce on how her basketball career began.
"Seventh grade," Kellie Lewis-Jay recalls as she shyly looks down. "That's when it started."
Basketball tryouts were coming up. Kellie was more interested in soccer and tennis at the time, but a friend wanted to tryout for basketball and insisted she go too.
"She was too embarrassed to go to tryouts by herself so I said I would go," Lewis-Jay said. "I went, and it actually wasn't as bad as I thought it would be."
It was even better than she expected, but with a twist. Kellie made the team, but her friend didn't. She laughs, thinking about the irony of the situation.
"Which, probably wasn't the best thing," she said about their friendship at the time. "We stayed friends, but it's funny looking back on things now."
"So," as she said with a smile. "Here I am."
---
Lewis-Jay was an assistant for head coach Connie Yori at Nebraska for the last five seasons, helping lead the Cornhuskers to the NCAA Tournament three times. Yori is thrilled that Lewis-Jay is getting the opportunity to lead a program.
"Everybody here at Nebraska is excited that Kellie is becoming a head coach. Kellie has done a tremendous job in building our program," Yori said. "She is a tireless worker, and she is dedicated to excellence in everything in the coaching profession."
Lewis-Jay was a recruiting coordinator as well and traveled all across the country to find talent. Even Wyoming and Alaska.
"The kids that we signed when I was there came from all over the country," she said. "Definitely have recruited in every state in the country at least once."
She believes there's a clear parallel to her first year at FAU compared to Yori's first at Nebraska. At FAU, Lewis-Jay has just six returning players from last year's 17-13 NIT squad coached by Chancellor Dugan, the coach for the last 13 seasons before she resigned.
Yori only had five scholarship players when she began in 2002, before she turned Nebraska into a perennial contender. She says her experience on Yori's staff helped prepare her to run her own team.
"By the time I left we were a program that was going to compete for the championship every year," Lewis-Jay said. "Just watching her build the program from where she took over when she first began to where it is now. If you have that kind of support it makes it easy."
Her dad Chuck was a former California highway patrolman. He was a standout baseball player drafted in 1957 by the Cardinals. His mother did not want him to play. Since he was under 18 at the time she decided not to sign his paperwork.
"She said that's not a real job," Lewis-Jay said. "That's not how you make a real living,"
Her father was baffled at first by the decision to head south.
"I'm just surprised that she really had it in her mind to go to Florida," he said. "That's the only thing she wanted to do. She's from California."
He never doubted she could reach her potential however.
"From when she started playing basketball, I knew where she was headed. She was headed to the top," he said. "She's a perfectionist with it. Once you start following her, you'll see what I see. It's got to be done right or it can't be done."
---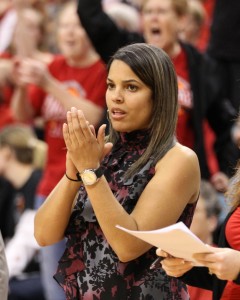 The first person Lewis-Jay told about her new job doesn't even like basketball.
It wasn't hard to put into words why coming to Florida would be fun for her 8-year-old daughter Kobie. The allure of building sandcastles and collecting sea shells did the trick.
"It was an easy way to convince her it was ok to move," Lewis-Jay said. "She was very excited. Being able to sell the beach to her, and that we might have a swimming pool, then it was an easy sell."
Aside from a leftover picture of an owl, the only other photo in the office she's added so far is of Kobie. With brown hair and tan skin, she very much resembles her mother, but the two couldn't be any different. Whereas Kellie was a tomboy growing up, Kobie prefers doing her hair and wearing dresses and makeup.
"Completely out of my line of expertise," Lewis-Jay jokes.
"She has not one desire at all to play basketball in her body, so unfortunately I won't be at basketball games watching her," Lewis-Jay says. "Kills me, but yeah. They say before you have a child the child's going to be their own person, so I can see that. Maybe in a couple years. Ask me in a couple years if she likes basketball. Hopefully I can say yes."
---
Lewis-Jay is currently out recruiting players for next season. She's already signed junior college transfer Shanequa Schrouder from Daytona State College.
With half the team departing, there's no way of knowing whether the 2012-2013 Owls will be more talented than last year. "A little bit challenging to think of competing with seven players," she says before mentioning the team will add three more players before the season starts.
Owls junior guard Kimberly Smith was on the interview committee that selected Lewis- Jay. Smith immediately came away impressed with her personality and vision for the team.
"She seemed real energetic and excited. I felt like she would be a good fit for our team because she seems like she wants to play quick and we're going to be a quick team," Smith said. "I just got excited talking to her because I know she has big things planned for our program here."
The first two seasons of her college career were with Dugan, who led FAU to its NCAA Tournament birth in 2006. Smith admits it'll be odd to take the court for the first practice without her, but is still looking forward to next year and a chance to improve as a unit.
"I think it'll definitely be weird. Sometimes it doesn't even set in that we have a new coach," Smith said. "But, we're all excited just to have another season and another opportunity."