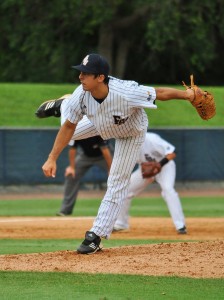 Make it two more.
FAU's Kyle Newton and Ryan Garton were selected on the final day of the MLB draft Wednesday. Newton was drafted with the 588th pick by the Colorado Rockies. Garton with the 1,052th pick to the Tampa Bay Rays.
The day before, reliever R.J. Alvarez was picked 114th overall by the Los Angeles Angels.
Newton hit .311 for the season, second only to Mike Albaladejo's .358. Along with Corey Keller and Mark Nelson, Newton tied for the team lead with 7 home runs. His 34 RBIs were second only to Nelson (45).
The 5'11 185 pound Newton is from Lakeland. He transferred to FAU from South Florida Community College.
Garton was fifth in ERA (3.13) and had the best winning percentage of any starter in the conference with a 9-3 record going into the conference tournament. For the season, Garton had 84 strikeouts compared to 29 walks.
The 5'11 170 pound Garton is from New Port Richey, Fl and attended J.W. Mitchell HS.