Baseball: FAU beats Western Kentucky 6-5 in extra innings
FAU defeated Western Kentucky Friday night 6-5 in 10 innings. The Owls were winning the game 5-4 until the eighth inning, when pitcher Ahmed Garcia gave up a solo home run to Hilltoppers right fielder Ryan Hutchinson, tying the game 5-5. FAU rallied in the bottom of the eighth inning as center fielder Geoff Jimenez singled to center field, and catcher Mike Spano walked to make it two men on with two outs. FAU shortstop Mitch Morales flied out to right field to end the inning.
After nine innings, FAU headed into extra innings with the game knotted at 5. FAU pitcher R.J. Alvarez pitched a scoreless ninth and 10th innings to put the team in a position to win the game. With two out in the bottom of the 10th, designated hitter Alex Hudak walked, and Jimenez singled to left field.
The single put two men on with two outs as catcher Mike Spano stepped to the plate.
After two quick strikes, Spano was facing an 0-2 count with the game on the line. His next swing would win the game for FAU, as the catcher belted a single down the right field line that drove in Hudak for the game winning run in extra innings.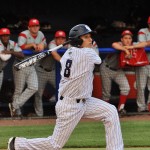 The winning pitcher for FAU was Alvarez, who improves his season record to 5-0 with a 0.57 ERA. With the win, the Owls remain in first place of the Sun Belt Conference. This victory over the rival Hilltoppers brings FAUs conference record to 15-5, and its overall record to 27-17 on the season.
The Owls will be back in action tomorrow against Western Kentucky at 4 p.m. in Boca.