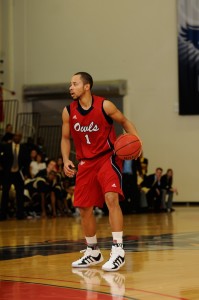 Shavar Richardson has no fear on the court.
But in his room? That's a different story.
The senior guard from Brooklyn, N. Y., has hit big shots over his four-year career at FAU including a pair of game winning free throws over Denver this season. Last year in his dorm, however, he was defenseless. One of Richardson's roommates at the time, former teammate Dylan O'Sullivan, and current teammate Alex Tucker, Richardson's best friend on the team, decided to have some fun.
While Richardson showers, O'Sullivan hides on his hands and knees in his closet. Tucker is on Richardson's bed, pretending to text, but actually recording. Richardson, wearing only a towel and slippers, unknowingly strolls out of the bathroom to an unexpected guest.
"Dylan jumped out and scared me. I just clenched up, and because my slippers were wet, I fell on my back," Richardson said. "If you watch it, you would probably think it was the funniest thing in the world, but to this day, I still don't think it's funny. People ask me about that often. 'Were you the guy who fell when the guy scared you?'"
Later in that year, though, Richardson would be well-known across campus for something else: helping FAU win the Sun Belt. Richardson averages just 7.3 points per game, but his impact on the team is not in the box score. His leadership is evident even when he is on the bench. Instead of pouting, Richardson is often lively on the sidelines, clapping and cheering his team on.
The team regressed in his senior season, but it's the life-long friendships he's made at FAU that are important to Richardson, especially the bond he formed with fellow senior Tucker.
"You could honestly say we're like brothers. He knows me like a book and I know him," Richardson said. "When we came here together, it was an instant bond. We had our differences, we would fight and argue like brothers, but at the end of the day, I'll do anything for him."
Tucker shares the sentiment, noting the brotherhood is forged by their experiences together.
"Whenever I need advice, I turn to Shavar," Tucker said earlier in the season. "We came in together and have gone through the same ups and downs."
Despite holding a 19 point lead, the duo lost its final game at the Burrow 83-82 against Troy, something the rest of the team regrets.
"It was very disappointing. Those are brothers of mine and our team," junior point guard Ray Taylor said. "For your brothers to lose their last game at our home gym leaves a bitter taste in your mouth, especially being up by so much on their senior night."
Nevertheless, Richardson still is proud of the fact the fan base has increased in his time as an Owl. He wants to play professional basketball overseas.
"Directly after the season, I plan on working out and staying in shape. It won't be practice but I plan on staying with the same regiment. Getting up early and working out," Richardson said. "I don't want to be idle, because then you get lazy and lose ambition."
If the dream of pro ball is no longer a possibility, the sociology major has another idea for a career.
"I'm still young, I do want to play, but if not, I do want to work with youth because I feel I can relate to teenagers and young men going into college, and help them with the things I've gone through," Richardson said. "Hopefully I can pass some of my wisdom on."
Richardson is set to graduate in the summer and believes his time at FAU has made him a more well-rounded person.
"I think I've matured a lot, academically," Richardson said. "I'm graduating on time, and that's from balancing academics and basketball."