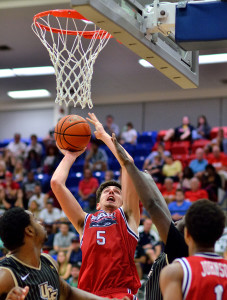 The Florida Atlantic Owls (8-14) picked up their second road win in a conference game versus the Marshall Thundering Herd (8-15).
Marshall guard Chris Thomas scored seven of the first 15 points for the Herd, but was held to just nine points from there onward. A jumper by Owl Justin Raffington tied the game at 15 with just under 12 minutes remaining in the half.
A six minute Marshall scoring drought later in the half benefitted the Owls, who scored eight unanswered points and found themselves ahead 27-19 with 5:49 to play in the half. A 3-pointer by guard Jackson Trapp brought the Owls up 34-25 by halftime.
Freshman Herd guard Kareem Canty made a 3-pointer that pulled Marshall within six points with 12 minutes left. Owl guard Pablo Bertone responded with a 3-pointer of his own, then his backcourt mate D'Andre Johnson converted a jumper that gave FAU a 49-38 lead with 10:49 remaining. Bertone finished the game with 20 points.
Two minutes later, another 3-pointer from Bertone gave the Owls a 14 point lead, their biggest of the night.
Marshall forward TyQuane Goard laid the ball in with 4:24 to go. His team then went on an 8-0 run to whittle the Owl lead all the way down to three. Guards Jackson Trapp and Marquan Botley hit late free throws to stem the tide and stave off of a hard charging Herd team. The Owls won by a final score of 65-57.
Next are two consecutive home games for the Owls on Jan. 28 (versus Middle Tennessee State) and Jan. 30 (University of Alabama at Birmingham).
Wesley Wright is the sports editor of the University Press. He can be reached at [email protected] or on Twitter @NotEvenWes.