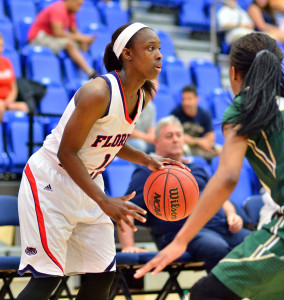 The Lady Owls of Florida Atlantic Basketball (12-9) lost to the University of Alabama at Birmingham Lady Blazers (13-9) after forcing overtime on Feb. 5.
Guard Latavia Dempsey scored 11 early points for the Lady Owls, who led 29-26 with just under eight minutes remaining in the half. Dempsey totaled 24 points.
Dempsey and company then went cold from the field and UAB capitalized. FAU trailed 38-31 with 3:25 in the half and entered halftime down by 11 points at 47-36.
To begin the second half, UAB repeatedly exploited an undisciplined FAU defense. The defensive mishaps (mostly shoddy help defense) helped UAB maintain a substantial lead that reached 13 points in the opening stages of the half.
Seven consecutive points by guard Takia Brooks shaved the UAB lead to just six points, but the lead swelled back to 13 with 11:47 to go after FAU gave up a three-point basket to UAB's Miranda Burrough.
Lady Owl Kat Wright provided a three-pointer of her own that made the score 70-66 in favor of the UAB Blazers with 7:20 remaining. The FAU defense still found itself unable to stifle a UAB team that did a masterful job of moving the ball in their halfcourt sets.
Two free throws by UAB guard Chelsee Black stretched their lead to 10 with 1:44 left in the game. Fans began to file out of the Burrow completely unaware that the game was far from over.
Seven FAU points in 54 seconds reduced the deficit to just three. Leading 81-78, Black hit two more free throws, but it was missed opportunities at the line that almost cost the road team a win.
Guard Kimberly Smith hit a three-pointer with 11 seconds to go and FAU trailed by just one point at 85-86. A jump ball ensued and FAU regained possession. Guard Shanequa Schrouder forced her way to the rim and drew a foul. Schrouder made the first free throw and missed the second. The two teams went to overtime where turnovers were the largest factor in FAU's 94-91 loss.
FAU has now lost four of their last five games. The Lady Owls will be in Oklahoma to take on the Tulsa Golden Hurricane on Feb. 8.
Wesley Wright is the Sports Editor of the University Press. He can be reached at [email protected] or on Twitter @NotEvenWes.