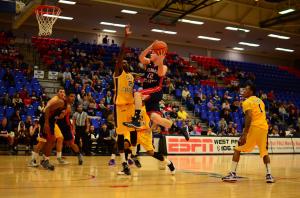 Trailing by double digits with just over 12 minutes remaining in the first half, the Florida Atlantic Owls (6-11) looked completely confounded by the East Carolina defense. The Pirates (11-6) looked poised to blow the game open and doom the Owls to a second conference loss.
Then Jackson Trapp caught fire. The sophomore guard scored 12 straight points, bringing FAU right back into the game. He went into halftime with 15 points on 5-9 shooting — all from beyond the 3-point line.
Later on in the half, guard Pablo Bertone provided spectators with the play of the night. After a pass meant for Bertone was deflected, he grabbed the ball and spun all in one smooth motion, then converted a layup despite a hard foul.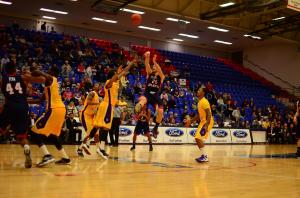 Akeem Richmond, ECU'S starting point guard and the leading scorer in Conference USA (19.6 PPG), hit a late 3-pointer just before halftime, bringing the Pirates up 33-30.
Richmond hit several tough shots in the opening minutes of the second half, but the Owl defense kept him scoreless for almost nine minutes of gametime. Richmond finished with 20 points on just 6 of 15 shooting.
FAU took its first lead after a layup by Bertone put them on top 45-44 with 15:20 to go in the game. Bertone then blocked a 3-point attempt by Richmond on the ensuing defensive possession.
Guard D'Andre Johnson recovered the ball, then converted a floater in the lane even as he was fouled. Johnson made the resulting free throw, and FAU then led 48-44 with the momentum in their favor.
FAU head coach Mike Jarvis spoke very highly of Johnson. "D'Andre Johnson might have been the key for us tonight because he gave us energy, he gave us a spark, and whenever he was in, good things happened."
But it was another guard that put on a show in the closing stages of the game. Marquan Botley, the Owls' true freshman starting point guard, knocked in a 3-point shot that gave FAU a 54-53 lead. Just a few possessions later, Botley hit another three that widened the Owl lead to 63-57.
Soon after, another three by Botley stretched the lead to 68-59 and left very little doubt about the impending outcome. He converted one more shot from long range before the game ended and finished with 17 points.
Trapp spoke well of his backcourt teammate. "He's definitely matured. His shot's gotten a lot better. Overall passing ability, leadership, everything. He's gotten way better."
Jarvis heaped praised on Botley as well. "[Botley] has to be aggressive shooting the ball. He was aggressive in the second half, when he does that, he makes us that much better."
As well as he thought his guards played, Jarvis also made a point to praise his big men — two starters: Kelvin Penn and Justin Raffington.
On Penn: "He blocked shots, he made some big crucial layups and he played extremely well."
On Raffington: "Justin was a man against boys today. I've never seen him rebound quite like he has rebounded the ball tonight." (Raffington finished with 12 points and 14 rebounds, his fifth consecutive double-double.)
Now 2-1 in conference, the Owls look toward Old Dominion University. The Monarchs are coached by Jeff Jones, former coach for American University located in Washington, D.C.
Jarvis, who once was the head coach at George Washington University (also located in D.C.), is familiar with Jones.  "He is a heck of a coach, and any team he coaches is a well-coached team."
Wesley Wright is the Sports Editor for the University Press. He can be reached at [email protected] or on Twitter at @NotEvenWes.
Rodolphe Ganthier is a contributor for the Univeristy Press. He can be reached at [email protected].