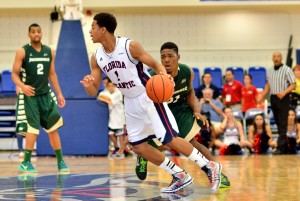 The Florida Atlantic Owls men's basketball team picked up its second consecutive win this season on Dec. 7, this time versus Jacksonville University that trailed from start to finish.
The Owls began the game on a 12-1 run, capitalizing on the JU Dolphins that came out visibly flat.
The FAU lead stood at 15 after an alley oop from Jackson Trapp to Justin Raffington with 11:52 remaining in the first half.
Jacksonville employed a defensive zone press hoping to slow the Owls down on offense — and the press worked somewhat effectively. Jacksonville slowly whittled the lead down to 10, only to see it swell back to 16 at halftime.
Balanced scoring was key in to the Owls' first half success — in total, seven different players contributed points. The offensive output was led by eight points from Guard D'Andre Johnson.
FAU took a 42-26 lead into halftime. The Owls found themselves with a strong lead even with an awful half from their leading scorer, Guard Pablo Bertone. Bertone went 0-8 from the field and scored his seven first-half points on free throws. He finished with 20 total points.
Ball control was also a plus for the FAU men, who committed just two turnovers in the first half and a season-low of nine turnovers for the game.
The lead reached 20 early in the first half, and grew to 26 before the game came to a merciful end. Four Owls finished the game in double figures and FAU dominated on the boards, winning the rebound battle 42-29. Kelvin Penn finished with a career high of 15 points, along with eight rebounds and two blocks.
"Kelvin has probably been our most consistent leader," Owls' Head Coach Mike Jarvis said of the senior. "I know I can depend on him coming out and being ready to play."
FAU now looks toward challenging road games versus DePaul (Dec. 12) and Maryland (Dec. 14).
"It can't help but make us better," Jarvis said. "I like the direction we're going in."
Jarvis took a realistic perspective on the road trip, which also includes a Dec. 17 trip to DeLand, Fla. for a game against Stetson.
"That's how you get a great year, by beating teams you're not suppose to beat," Jarvis said. "Let's say we come away with a split on the road — then this is a great trip."