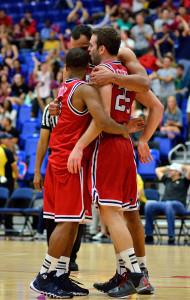 Florida Atlantic (3-7) suffered their seventh loss of the year to DePaul (5-4) who started out slow, but played much better as the game wore on.
The Owls played without Dragan Sekelja, who was held out with an injury. Justin Raffington and Kelvin Penn constituted the FAU frontcourt.
FAU ran a very fluid offense early, and their 2-3 matchup zone defense stagnated DePaul in the early stages of the game.  With 11:37 to go in the first half, FAU found itself up 22-15 with 8 points each from Pablo Bertone and Jackson Trapp.
Later on, the Owls still found ways to score on the DePaul defense — they shot 52 percent from the field with six minutes remaining in the half. Much of the offensive success predicated on the work of Bertone, who had 17 points in the first half.
The Blue Demons shifted the momentum of the game just before the first half ended. Bertone picked up his third foul with just 29 seconds remaining in the half. On the other end of the floor,  DePaul grabbed the lead after scoring on an offensive rebound just before the buzzer, culminating a 12-4 run. DePaul went into halftime with a 38-37 lead.
Beginning the second half, DePaul converted five of their first six shots. FAU hung around in large part due to more stellar plays from Bertone. Bertone used an array of floaters and low post moves in the second half to get to the rim and to the line. The Argentinian senior finished with 30 points on the night.
DePaul guards Cleveland Melvin and Brandon Young came to life in the second half, cutting to the rim repeatedly and exploiting the Owl defensive rotations — or lack thereof.
Melvin totaled 19 points, and with around five minutes remaining, the Baltimore native hit the shot that dashed the Owls' hopes to take back the lead — a 3-point basket that increased his team's lead from seven to 10 points with five minutes remaining.
The Owls got no closer than nine points from there on, and game ended at 81-70 in favor of DePaul.
The absence of Sekelja was painfully evident, and DePaul capitalized on their size advantage, winning the rebound battle 38-29. Sekelja, the 7-foot-tall, 260-pound Croatian senior, could have helped the Owls compete a little more around the rim.
Marcius Sandi (who is also Croatian) scored 19 points and grabbed 12 rebounds, having his way with Raffington and Penn.
Bertone and Trapp combined for 47 points, while the remainder of the team only managed 23 points total. The Owls now head to College Park to play the University of Maryland on Dec. 14.
Wesley Wright is the Sports Editor for the University Press. He can be reached at [email protected] or on Twitter at @NotEvenWes.