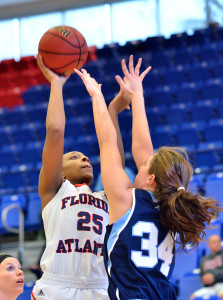 The Lady Owls of Florida Atlantic University (6-2) picked up their fifth consecutive win over University of Rhode Island (1-7) in the championship game of the FAU Thanksgiving Tournament held this weekend.
To reach the championship game, FAU defeated Georgia Southern 82-58.
The game versus Rhode Island started at a hectic pace and remained that way for the entirety of the contest. Rhode Island used the aggressive defense from the Lady Owls to their advantage, repeatedly cutting back-door to find themselves in front of the rim.
Rhode Island guard Kerry Wallack scored eight quick points as her team jumped out to a 23-20 lead with 7:30 remaining in the first half. FAU center Chenise Miller scored six straight points as the Lady Owls looked to exploit their opponent around the rim, but Rhode Island took a 39-36 lead into halftime.
The second half continued at a helter-skelter pace, but a tough layup through contact by Takia Brooks shifted the momentum in FAU's favor. Brooks hit a free throw that put her team ahead 14:56 remaining.
In an attempt to quell the Owls' offensive efficiency around the rim, Rhode Island dropped back into a 2-3 matchup zone, designed to make FAU work the ball around the perimeter in hopes of finding a spot to attack.
It was the relentless FAU defense that made its imprint late in the game. FAU kept up its constant fullcourt man pressure for the entirety of the game, and with around twelve minutes left, the Lady Rams seemed visibly fatigued–chests were heaving, and shorts were being grabbed.
The completely spent Lady Rams scored just 12 points in the last 10 minutes of play, and FAU coasted to a 78-62 win, spurred on by 16 points from Miller and 15 points from Brooks.
The FAU Women's Basketball team now looks toward a home game versus University of Central Florida on Dec. 13.