FAU pitcher Andrew Archer named MVP of South Florida Collegiate League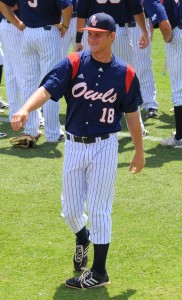 Andrew Archer is making a name for himself outside of FAU.
Following a stellar campaign, the Owls' senior pitcher was named MVP of the South Florida Collegiate League –– a 10-team summer league that allows players to showcase their talents in hopes of going pro.
Pitching for the Pompano Beach Clippers, Archer struck out 27 batters in 20.1 innings of work, and didn't let up a single earned run. He also strung together a 3-0 record and racked up five saves, one of which came in the league's Championship game.
"Being named MVP of the League is a great honor for Andrew," FAU Head Coach John McCormack told FAUSports.com. "He had a great summer and we are very proud of his accomplishment."
Archer's dominant season for the Beach Clippers saw him surrender just 11 hits in 15 appearances, holding opponents to a .167 batting average.
"I've watched Andrew play since he was a freshman at Broward Community College in Davie.  His stuff is dominant and always has been hard for hitters to pick up," SFCBL President Vince Farfaglia told SouthFloridaCollegiateLeague.com. "He's put together one of the best college seasons on the mound I have ever seen".
In his junior season with the Owls in 2012, Archer finished with an 0-1 record in 11 appearances. He gave up 20 hits, 10 earned runs, while striking out 13 batters.
Going into his final year with FAU baseball, Archer hopes to make a bigger impact on the mound.
"My main goal is take my team further than we went last year and build off the summer I had," Archer told SouthFloridaCollegiateLeague.com. "I'm glad I was able to throw against consistent D1 and D2 hitters all summer. This was a great way to end my last summer collegiate game and will help me out going forward in my college and hopefully professional career."