Rocklein homer helps Owls topple top-seeded Troy in delayed Tournament tilt
Not even Mother Nature could prevent the Owls from advancing in the Sun Belt Conference Tournament.
In a game that took nearly 24 hours to complete, FAU knocked off the top seeded Troy Trojans, 3-1, in 10 innings. The tilt originally started on Thursday evening, but lightning caused the contest to be suspended in the top of the 9th inning.
When play resumed on Friday afternoon, the Owls and Trojans found themselves deadlocked in a 1-1 tie, and neither team was unable to tack on runs in the 9th.
The 10th inning, though, proved entirely different.
In the top of the frame, a single by first baseman Mark Nelson brought designated hitter Tyler Rocklein to the plate who connected on a booming two-run homerun, ultimately giving the Owls a game-winning 3-1 advantage.
FAU closer –– and all-time Sun Belt saves leader –– Hugh Adams handled the Trojans to ensure the victory, the team's second of the Louisiana-based tournament.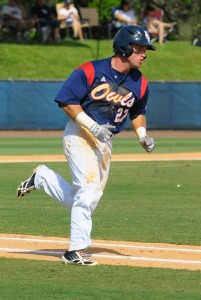 Adams received the win, going two innings, allowing two hits, and striking out one batter.
Prior to the extra innings magic, the Owls found it hard to manufacture runs, despite finishing with 12 hits. Their other lone run came in the fifth inning, when a RBI single by center fielder Nathan Pittman plated third baseman Ricky Santiago.
Troy would knot the game at 1-1 in the sixth on a double off of FAU starting pitcher Jeremy Strawn, who went six innings, struck out five, and gave up one earned run on four hits.
Five Owls batters –– Pittman, Nelson, Santiago, second baseman Brendon Sanger and right fielder Corey Keller–– totaled at least two hits against Trojans pitching.
The Owls' victory propels their overall season record to 37-20.
FAU continues tournament play against the winner of No. 1 seed Troy and No. 8 seed Arkansas State on Saturday, May 25. First pitch is scheduled for 10 a.m. EST.