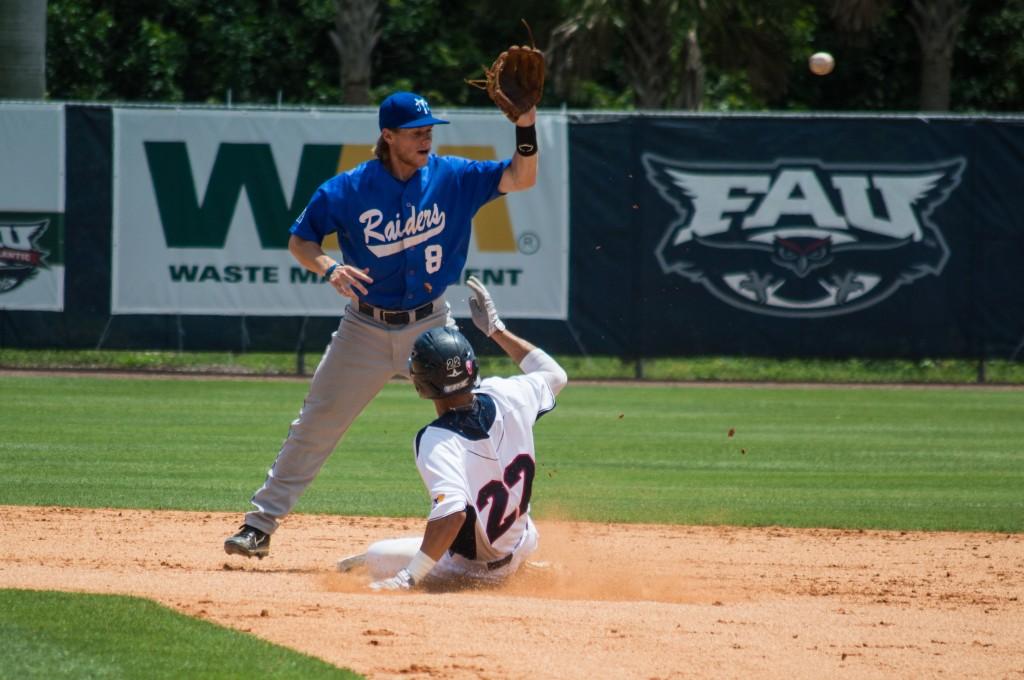 In captivating fashion, the Owls earned a season series victory over Sun Belt Conference opponent Middle Tennessee State.
Playing a double header on Sunday (Saturday's game was rained out), FAU came from behind in both games, defeating the Blue Raiders by scores of 5-3 and 8-3. The Owls lost the first game of the series, 3-2, on Friday.
In game one, which started at 9 a.m., Middle Tennessee built a 3-1 lead, which they took into the bottom of the eighth inning.
That's when the dramatics began.
In that inning, the Owls loaded the bases for center fielder Nathan Pittman, who promptly knocked a double inside the first base line, scoring three runners.
Following that was a throwing error by Middle Tennessee, which allowed infielder Robert Buckley to touch home, giving FAU a 5-3 advantage.
From there, Owls closer Hugh Adams made quick work of the Blue Raiders, recording his eleventh save of the season.
Senior Bo Logan received the win for the Owls, despite facing just one batter. Jeremy Strawn got the start — and a no decision. He lasted 4.1 innings, giving up four hits, an earned run, while striking out six.
Pittman proved to be clutch for the Owls, a theme throughout the afternoon.
Game two started just as dubiously for FAU, however. The Blue Raiders jumped out to a 3-0 lead in the second inning, quickly getting to Owls starter Brandon Rhodes.
FAU would go down in order for the next four straight innings, before beginning a rally in the seventh.
After second baseman Nicholas Worrall was hit by a pitch, and a run scored, the bases were loaded for Pittman, who again played hero, tying the game at 3-3 with a two RBI single.
In the eighth, the Owls' bats really came to life, as they totaled five runs with a series of hits — right fielder Corey Keller (RBI single), shortstop Mitch Morales (RBI single), catcher Levi Meyer (two RBI single), and left fielder Brendon Sanger (RBI single).
Suddenly holding an 8-3 lead, Adams, though not in a save situation, was brought in to close out the Owls' doubleheader sweep.
Senior righty Jake Meiers got the win for FAU, pitching three scoreless innings in relief of Rhodes, who let up eight hits and three earned runs in five innings of action.
Pittman was one for five from the plate in game two, but his two RBIs were the catalyst in the victory. He combined for four RBIs on the day.
With both wins, the Owls bumped their season record to 24-12, and improved to 10-5 in the Sun Belt.
FAU dips out of conference — but stays in state — to play one game against UCF on Tuesday, April 16. First pitch is scheduled for 6:30 p.m.