FAU women's basketball's two departing seniors are going their separate ways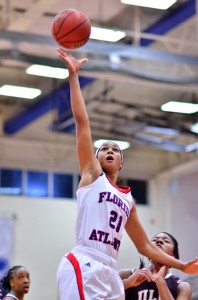 With the 2012-13 season officially over, FAU's Lady Owls are saying goodbye to its only two seniors: Breana Turner and Kelsey Proctor.
Both have played their last season of collegiate basketball, and similarly found themselves at the end of a journey.
Turner was the unequivocal star of the squad this past season, and won't be venturing too far from the sport.
Proctor, on the other hand, had been battling for playing time and consideration ever since she transferred from John Wood Community College. As a result, she's grown tired of it all and will explore other ventures.
They might've shared a common bond — basketball and seniorhood — but they're about to head in completely opposite directions.
[divider type=""]
Before joining the Owls, Breana Turner was lighting up the court of De La Salle High School in New Orleans, La. As a four year letterman, Turner left as De La Salle's all-time leading scorer, averaging 26 points per game in her final season of high school ball.
Fast forward five years, and Turner — the Owls' leading scorer in her final season (12.9 points per game) — is closing a chapter of her life. She's set to graduate with a degree in multimedia communications, a field she hopes to one day work in.
"I would love to work in sports broadcasting, ESPN or something," Turner said. "That's my dream."
But that dream comes second only to her ambitions to ultimately play basketball professionally — and not just in the United States.
Turner enjoyed playing in Boca, but, if she had it her way, would take her talents out of the country.
"I've always wanted to visit Italy," Turner said." I've heard it was beautiful. There are so many things I want to see there — Rome, the Sistine Chapel, things like that. And of course, the food!"
Although basketball in Italy is plenty to be excited about, Turner admits that she'll miss her time in The Burrow.
"I'm going to miss my teammates, all the friends that I made here," Turner said. "Some great memories here."
[divider type=""]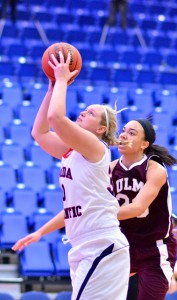 Unlike Turner, Kelsey Proctor, who spent most of her senior season on the bench, is just about done with basketball.
"I'm just tired," Proctor said. "I spent some great years playing here and gave it my all."
Proctor didn't get nearly the same playing time — nor fanfare — as Turner, but nevertheless experienced a bond with her teammates during the Owls' 12-17 campaign.
"We were all so close all throughout the season, went through ups and downs," Proctor said.
Still, the contrasting viewpoint in regard to sports is evident.
Proctor is graduating with a degree in secondary math, and is instead focusing her future plans on a higher education.
"I want to MBA in sports management," Proctor said. "I would like to stay here at FAU to do that."
Good academics are nothing new for Proctor. She was a four-year honor roll student at Parkway West High School in Ballwin, Mo. In her sophomore season at John Wood Community College in Quincy, Ill., Proctor was an academic All-Region and All-Conference selection.
With her education in mind, Proctor isn't entirely sure what she wants to do in terms of a career. All she knows is that she wants to remain at FAU.
For two simple reasons.
"The weather, the people," she said succinctly.
[divider type=""]
Turner and Proctor spent their last season in FAU jerseys under the tutelage of a new coaching staff, led by head coach Kelly Lewis-Jay.
"It's usually hard when there's a completely new coaching staff," admitted Proctor. "The first year is usually the toughest, but it was good."
"Practices were fun," agreed Turner. "[Lewis-Jay] is really a great coach."
Whether it was an ill-fated, decisive pass, a shot that just wouldn't fall, or a deflating loss to end the season, both players agree that Lewis-Jay knew how to handle her players.
"From an X's and O's standpoint, she knows her stuff. But she's also a great leader," Turner said.
Lewis-Jay, described by her players as an articulate and knowledgeable coach, knew what to say to her team in difficult moments. Halftime speeches were Lewis-Jay's opportunity to reach her club.
"She just knew what to say to help us get our minds right," Proctor said.
Proctor even credits her head coach with helping her develop on an individual level.
"She motivated me to motivate myself," Proctor said.
The Lady Owls needed some of that same motivation after ending their season in a first round loss to Louisiana-Monroe in the Sun Belt Conference tournament.
Though, despite the less-than-ideal end to their college careers, both seniors are turning to new chapters in their lives.
And those chapters will be written in entirely different ways.