Put me in, coach: After missing all of last season due to a shoulder injury, pitcher Hugh Adams is ready to play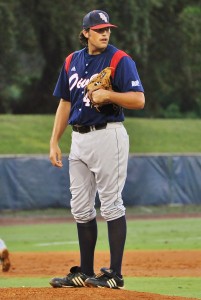 Standing at 6-foot-5 and weighing in at 225 pounds, Hugh Adams has the prototypical build of a pitcher. Spend ten minutes talking to Adams and you'll find out exactly why he is slated to be the Owls closer this coming season.
The cool, calm, and collected 22-year-old is as stoic as a gargoyle. Adams never appears dejected or exuberant in person in the classroom and especially not on the mound.
Adams — co-captain of the Owls baseball team — was the first team all-central region selection after leading the Sun Belt Conference with 10 saves. But during the Owls' final game of the 2012 season, all the pitcher could do was sit on the sidelines as his team overcame a series of obstacles — including using a pitcher as an outfielder — and reached the Sun Belt Conference championships.
Adams was forced to medically redshirt the 2012 season following surgery on his throwing arm. Bones in Adams' shoulder were not allowing for his ligaments to move correctly. In order to repair the ailment in his shoulder, the bone needed to be shaved down.
The rehabilitation process was slow and ineffective, due to an impingement in Hugh's back caused by a muscular imbalance.
"There were times when I couldn't throw 60 feet," Adams said.
In a last ditch effort to save his career, Adams decided to seek a second medical opinion.
He visited Dr. John Patterson in Waco, Texas. Known as the "Warlock of Waco," Patterson has treated baseball legend John Smoltz, former NBA star Tracy McGrady, and retired NFL receiver Terrell Owens.
Sure enough, Patterson fixed Adams, too.
"When I left for Waco, I couldn't throw," Adams said. "When I got back, I could throw 120 feet."
The treatment Adams received was nothing short of miraculous, and the senior is now poised to return to pitching for the Owls.
"Hugh is the man. Plain and simple, he's the man," Owls infielder Mitch Morales said. "He's definitely a leader on the team and we're looking forward to seeing what he can do this year."
[divider type="thin"]
Unlike his son, Bruce Adams never had the luxury of playing baseball. As a child, his eyesight was so poor that he was unable to see or track a fast moving baseball.
Unable to play baseball, Hugh Adams's father developed a passion for the sport as a fan. But when Hugh Adams was just five, his father took the entire family on a tour of every major ballpark in the country.
"It was [Hugh's] dream come true to spend the whole summer going to baseball parks," sister Emily Adams said. "We had a blast."
On at least one occasion, Hugh and his family's visits to America's greatest ballparks ended in a visit to the hospital.
Emily Adams recalls a frightening moment at Zephyrs Stadium in New Orleans.
"Hugh and I were just walking on the concourse," she said. "And a foul ball clocked him in the head."
Hugh hit the ground hard and was taken to the hospital to be treated.
That summer seemed to galvanize Adams's passion for baseball. A year later, on his sixth birthday, Adams received catchers gear as a gift, and Emily and Adams's mother would often find Hugh asleep at night wearing his entire ensemble of catching equipment.
However, it wasn't long before the six-year-old ditched the catchers gear for a pitcher's mitt.
As a 16-year-old, he became the youngest player to ever compete in the Cal Ripken Collegiate Baseball League when he debuted for the Bethesda Big Train Baseball Club, which his father helped found in 1999.
Adams began his career with the club as a bat boy durings its inaugural 1999 season, but in seven years as a player, Adams posted a stellar 1.72 ERA. The Bethesda Big Train recently had his number 40 retired.
Not coincidentally, Adams was recruited to FAU while playing for Bethesda Big Train. Owls head coach John McCormack has a long running relationship with the baseball club.
"We have had guys going [to play for Big Train] for 11, 12 years," McCormack explained.
McCormack believes that Adams' experience playing for Big Train helped mold him into the type of player that exemplifies the values of Owls baseball.
"Hugh has known and been around the type of players that we've had for a long time," McCormack said. "He cares about FAU and he wants to see us do well. His ability to put FAU first is an unbelievable asset."
[divider type="thin"]
Four years later, Adams is entering his final season of collegiate baseball. Adams, as humble as they come, wouldn't even admit he might help the Owls improve.
"They obviously didn't need me [last season]," Adams said. "They weren't missing me last year."
Adams, a public management major, understands that this may be his final season as a pitcher, but wouldn't concede that a future in baseball was out of the question. Adams dreams of following in his father footsteps and pursuing a career in the nonprofit sector.
Hugh's father runs several sports related nonprofit organizations including Field of Dreams, an organization that focuses on helping underprivileged youths improve their reading skills and learn the game of baseball.
This past summer, Adams interned with the Montgomery County (Maryland) Department of Recreation, but whether it be a job there, with a nonprofit organization, or a Major League Baseball club, Hugh just wants to stay in baseball.
"If someone will pay me to do it," Adams said, "I'll do it."
For now, though, Adams is focused on this upcoming season, not the future. Adams believes he is fully recovered from the injury that ended his 2012 season before it began. He says that he doesn't have the velocity that he once commanded, but that he "works off movement, so [he] is not that worried about the whole 90 [mph] thing that everyone is."
The right hander isn't worried about whether his devastating sinker ball and knee buckling slider will be ready for this the upcoming season. In perhaps a rare glimpse of arrogance, Adams cracked a smile about being prepared for opening day.
"I'll be ready," Adams said.