Owls avoid sweep, shutout Alabama in 3-0 win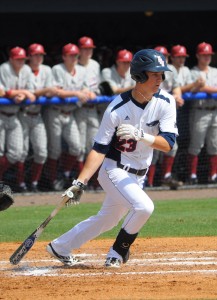 The Owls rode the sharp pitching of junior starter Jeremy Strawn to a 3-0 win, avoiding a shutout in the three-game home series against Alabama. The Crimson Tide won the first two games on Friday and Saturday.
Strawn was dealing early, allowing just five hits through his first five innings. In the afternoon, Strawn totaled six strikeouts and needed just 70 pitches to get through seven frames.
"He was exactly what we needed today," Owls head coach John McCormack said. "He saw how things were going and he stepped up. He has that sort of stopper mentality."
Strawn continued FAU's trend of starters throwing strikes. The Owls' starter managed to go all eight of his innings without allowing a single walk. In fact, he didn't even reach a 3-2 count until the eighth inning.
"All four of my pitches were working today, hitting the zone," Strawn said of his performance. "We've been working a lot on forcing contact and trying to get quick outs."
Quick was a good way to describe this game. With Strawn averaging 10 pitches per inning for seven frames, the game reached a conclusion in two hours of action.
Regardless, the Owls wanted this win badly.
"Without a doubt," McCormack said. "We needed this one. It was a gut-check game."
Owls senior closer Hugh Adams was back on the mound to close out the game. His last start against No. 23 Miami saw his first pitch get blasted to left field for a two-run homer.
"Really needed that for myself," Adams said of his clean ninth inning, which led to his first save of the season.
Freshman Brendon Sanger provided the Owls' with their offensive spark off the bench. He went 1-2 on the afternoon, scoring two on his single to right field. Sanger also drew a walk.
"The pitcher threw some good pitches," Sanger said. "But, I was lucky enough to put a bat on one and drive it in."
FAU faces Florida Gulf Coast University on Tuesday, Feb. 26. First pitch is scheduled for 6:30 p.m. at FAU Baseball Stadium.