Men's basketball: Owls suffer defensive meltdown, lose 84-65 to FIU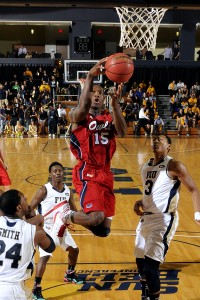 On Thursday night, the Owls took on rival FIU for the first time this season.
The result wasn't too favorable.
Despite a season-high outburst by forward Jordan McCoy, FAU suffered one of its worst losses of the season, 84-65, to the Golden Panthers.
Coming off the bench, McCoy's 19 points (on 9-14 shooting) were tied with Owls leading scorer Greg Gantt for the team-high. He also chipped in with nine rebounds.
Gantt's 19 points came on 7-21 shooting in 38 minutes of play. He added two rebounds and three assists.
Save for those two players — and a 15-point effort by guard Pablo Bertone — the Owls' offense was largely stagnant
and its defense completely susceptible.
FAU's other starters — forward Kelvin Penn, guard Jackson Trapp, guard Richard Morrow, and guard Stefan Moody — combined for just 12 points on 5-19 shooting from the field.
Meanwhile, the Owls' defense allowed a staggering 49 first half points to FIU, who had four players reach double figures.
FAU got to within 13 points in the second half, but it would get no closer. FIU easily pulled away, knocking down several of its six 3-pointers to put the game away.
As a team, the Owls shot 38 percent from the field (27-71) and 22 percent from 3-point range (5-22). But those statistics don't tell the whole story. Three of its bench players finished with zero points, as did Trapp, a starter.
Additionally, FAU turned the ball over a game-high 22 times, including six from Bertone and five from Gantt.
The loss was FAU's fifth in its last six contests, and dropped their season record to 11-14 and Sun Belt Conference mark to 6-8.
The Owls play at South Alabama on Saturday, Feb. 9 at 8:30 p.m.