Men's basketball: FAU breaks three-game losing streak with 76-71 victory over ULM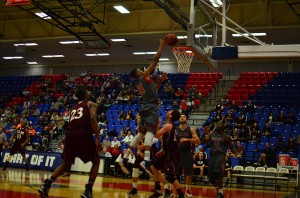 It took nearly two weeks, but FAU has returned to the win column.
Led by a quintet of double-digit scorers, the Owls snapped a three-game losing skid in a 76-71 victory over Louisiana-Monroe on Thursday night at The Burrow.
It was FAU's 11th win of the year, matching their total from all of last season, and felt especially good coming on the heels of an embarrassing 63-38 loss to Arkansas State.
"It was good to get that win," Greg Gantt said. "We had been working hard all week in a lot of different aspects. We still didn't play the way we would've liked in the defensive end, but a win is a win, and I'll take it any day."
Gantt and four other guards — Stefan Moody, Pablo Bertone, Richard Morrow, and Jackson Trapp — single-handedly carried the team, combining for 69 of the 76 total points.
The nation's seventh-best scorer, Gantt had 19 points (on 8-19 shooting), once again leading the team in that department.
Moody (16 points) played with an incredible amount of hustle and knocked down more than half (5-of-9) of his field goals.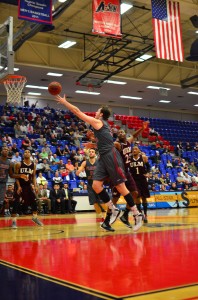 Bertone (13 points) drained 6-of-12 shots and added seven rebounds.
Morrow turned in his finest performance of the year, recording a double-double (11 points and a career-high 13 rebounds) and eliciting an encouraging response from his teammate.
"Dang!" Gantt exclaimed. "Shout-out to Rich. He's working very hard in practice and his maturity level has changed so much. I'm so proud of him. It shows dedication, faith, and hard work can go anywhere."
It was Trapp's timely 10 points, however, that may have been the most important.
Trailing 63-58 with 5:49 remaining in the game, Trapp knocked down back-to-back 3-pointers to give the Owls a 64-63 advantage. Gantt added one of his own, propelling FAU on a 9-0 run which surged the squad through an up-and-down affair.
In total, FAU shot early and often, hitting on 28-of-62 field goal attempts (45 percent), and 7-of-20 3-point attempts (35 percent).
The Owls' lackluster numbers made way for a 45-36 halftime deficit. When ULM closed out the half on a 10-1 run, FAU seemed destined for another defeat.
But FAU coach Mike Jarvis got creative, utilizing a four guard look for a majority of the game. It allowed the Owls to have extra speed on the floor, in turn outlasting a fatigued ULM club.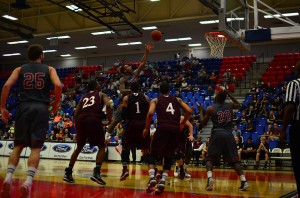 Gantt was a fan of the new formation.
"Much better for us," Gantt said. "We were much harder to guard. I think it's a plus for our team."
Jarvis was less candid.
"We'll see how it works on Saturday," Jarvis said bluntly.
While FAU came out on top, there are still areas that need major improvement. Its bench (17 points) barely contributed, they committed 17 turnovers, and let the Warhawks shine with 36 points in the paint (most of which came off of 20 offensive rebounds).
Nevertheless, Jarvis continues to follow his one-game-at-a-time mantra as the Owls enter the home stretch of their schedule.
"I always say, 'Winning begets winning, losing begets losing,'" Jarvis said. "It was a good win not only because of the three-game losing streak, but because we needed to win. Period."
FAU returns to The Burrow to play Middle Tennessee on Saturday, Feb. 2 at 7 p.m.