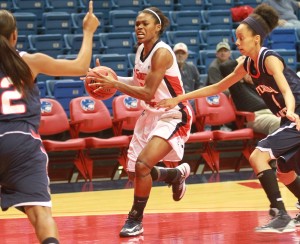 Three weeks and five losses later, the Lady Owls are back in the win column.
FAU defeated South Alabama 59-56 on Saturday night, snapping a five-game losing skid, the longest such streak since the 2010-11 season.
"Proud of our kids for not folding when the going got tough and for closing the game out," FAU head coach Kellie Lewis-Jay said. "We had a lot of people step up and make plays."
Helping the Owls pull out the win were guards Breana Turner and Takia Brooks, each of whom recorded 13 points.
Turner played 19 minutes, shot 4-9 from the field (44 percent), pulled down three rebounds, and had an assist.
In 28 minutes of play, Brooks totaled her points on 55 percent shooting (including three 3-point field goals), and had two rebounds and an assist.
FAU also got a solid contribution from guard Latavia Dempsey, who scored 10 points on 4-11 shooting and snagged a pair of rebounds in 26 minutes.
As a team, the Owls shot better from the field (39 percent compared to 36 percent), from beyond the arc (41 percent to 27 percent), dished out more assists (6 to 4), and turned the ball over less than their opponent.
The Owls led at halftime, 31-29, and held on to become victorious.
"Our goal was to focus on limiting penetration, which I thought we did a good job of in the first half," Lewis-Jay said.
Only three FAU players were held scoreless in the contest, and the team won despite its leading scorer's, Chenise Miller, average night (six points).
The Lady Owls improved their season record to 11-12 and jumped back over the .500 mark, 8-7, in S