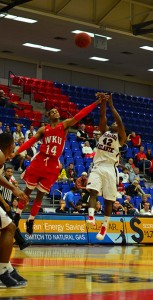 Leave it to Greg Gantt to get FAU back on the winning track.
Behind Gantt's game-high 31 points, the Owls snapped a three-game losing streak in an 84-78 win over Sun Belt Conference opponent Western Kentucky at The Burrow on Thursday.
Playing a full 40 minutes, Gantt connected on 9 of 17 shots from the field (including five 3-pointers), and also added five rebounds.
The 31 points were the second highest single-game total by Gantt, the senior guard and team's leading scorer, this season (he had 34 against Stetson).
Fellow guard Stefan Moody also contributed to the cause with a career-high 26 points (on 9-11 shooting), four rebounds, and five assists in 40 minutes of play.
Together, the duo accounted for 67 percent of FAU's points, leading to effusive praise from assistant coach Mike Jarvis II.
"Those two guys are playing great," Jarvis II said. "As a tandem, they are almost impossible to stop because they complement each other."
Guard Pablo Bertone chipped in with 12 points in a game the Owls led at halftime — 41-34 — and controlled in the second half.
If it weren't for Gantt and Moody, however, FAU might not have won this game.
The rest of the Owls' starters combined for just 16 points, while two other players (center Dragan Sekelja and forward Andre Mattison) recorded no points. Western Kentucky also controlled the interior (36 points in the paint) and took advantage of second-chance opportunities (21).
FAU, though, did shoot much better from the field (59 percent) while holding the Hilltoppers to a 39 percent mark in the same category. Simply put, timely — and precise — shooting by Gantt and Moody helped the Owls end their skid.
With the victory, the Owls improved their season record to 12-15 and conference record to 7-9.
"I thought we played well," Jarvis II said. "Like I said before, our guys still believe they can beat anyone in the league."
FAU plays at Louisiana on Saturday, Feb. 16 at 8:15 p.m.