Women's basketball: Owls suffer 77-45 blowout loss to Arkansas-Little Rock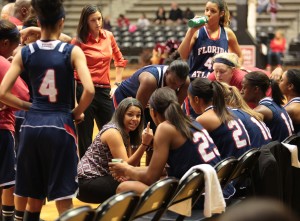 So much for momentum.
Coming off the heels of a two-game winning streak, the Lady Owls suffered their worst defeat of the season in a 77-45 loss to Arkansas-Little Rock on Wednesday night.
The 32-point differential was the most FAU let up all year, and the numbers lend credence to that fact.
Save for guard Kimberly Smith, who had 10 points in a team-high 31 minutes, no Owl reached the double digits. The closest, aside from Smith, was guard Breana Turner, who finished with nine points.
FAU's leading scorer, forward Chenise Miller, turned in a nondescript effort, with seven points (on 3-6 shooting), eight rebounds, and four turnovers in 23 minutes of play.
Of the 12 Owls players who saw action against the Trojans, eight of them were held to five or less points.
As a team, FAU was dismal from the field, connecting on just 28 percent of their field goals (17-59) and 15 percent of their 3-point attempts (3-19).
The Trojans thoroughly outclassed the Owls, especially in the rebounding department. UALR collected more than twice as many boards as FAU (56-24), allowing for 38 points in the paint and 20 second-chance points.
Four Trojans reached the double digit point mark against FAU, helping build a 47-21 halftime deficit that the Owls could not recover from.
The loss dropped the Owls' overall record to 10-8, and Sun Belt Conference mark to 7-3.
FAU plays at Arkansas State on Saturday, Jan. 26 at 6 p.m.