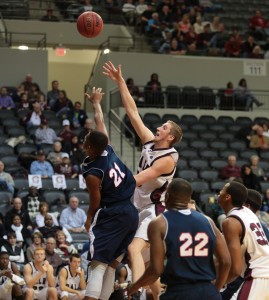 All good things must come to an end. Greg Gantt's scoring streak is no exception.
In FAU's 65-62 loss to Arkansas-Little Rock on Thursday night, Gantt was held to just 13 points (on 3-7 shooting), snapping an 11-game streak in which he totaled 20 or more points.
Most notably, though, the Owls inexplicably blew a 22-point lead (including a 16-point halftime advantage), letting the Trojans mount a massive comeback on their home court.
At the 9:58 mark, the Trojans cut the deficit to single digits –– 52-43. At 1:54, the game was tied at 60.
In a span of eight minutes, the Owls could only muster eight points, whereas the Trojans more than doubled that figure.
FAU fell behind 64-62 with 35 seconds remaining, cementing defeat in a game that was truly a tale of two halves.
In the first half, the Owls came out firing on all cylinders, going on a 19-0 run to open things up and, at one point, possessing a 22-point lead. At the end of the half, FAU led 35-19, looking like a team ready to hand the Trojans its second home loss.
But the Owls' lack of productivity came back to bite them in the second half.
Other than guard Stefan Moody's game-high of 24 points, along with Gantt's aforementioned 13, FAU's starters turned in a disappointing outing.
Forwards Jordan McCoy and Kelvin Penn, with guard Pablo Bertone, combined for just nine points on a combined 4-10 shooting.
In all, FAU shot well from the field (51 percent) and knocked down seven 3-point attempts. However, they were outrebounded by the Trojans (31-24), turned the ball over 16 times, and were unusually inaccurate from the free-throw line (9-19), factors that contributed to their late-game collapse.
The loss dropped the Owls' season record to below .500 at 10-11, and evened their Sun Belt Conference mark at 5-5.
FAU plays at Arkansas State on Saturday, Jan. 26 at 8:30 p.m.