Men's basketball: Owls lose 61-59 to North Texas in overtime
Despite an injured finger, Owls guard Greg Gantt totaled 20 points for the 11th consecutive game.
It just wasn't enough.
FAU lost 61-59 to North Texas in overtime Saturday night at The Burrow. The Owls dropped their overall record to 10-10 and conference mark to 5-4, doing so in a mostly dramatic fashion.
With seconds left in overtime, and a chance to send the contest to double overtime, FAU guard Jackson Trapp and forward Andre Mattison each missed short-range shots, as the Mean Green escaped with a win.
The Owls staying competitive that long was due in large part to their leading scorer.
Playing a game-high 44 minutes and sporting a finger splint, Gantt finished with 22 points, including two 3-pointers –– one which gave the Owls a 52-51 lead with 34 seconds left in regulation, and another in overtime which cut the deficit to 60-59 with 28.5 remaining.
Trailing 53-51 with 15 seconds remaining in the second half, North Texas knocked down a put-back bucket as time expired, sending both teams into the extra period.
Prior to that, the Owls battled back and forth in a game that featured nine lead changes and six ties.
As it turns out, Gantt's finger is fine.
"I just dislocated it and popped it back in," Gantt said. "I iced it, got a splint for it. I should be all right."
The team's first half play, though, was not.
"We weren't ready to play," Gantt said. "Simple as that. We broke down on the defensive end, didn't get back in transition, we lost rebounds. It was a poor effort in the beginning and lapses down the stretch."
In the first half, FAU struggled mightily with North Texas forward Tony Mitchell, considered an NBA-ready prospect. Mitchell used his 6-foot-8 frame to wall off defenders and find success in the paint. He finished with 24 points, eight rebounds, and three blocks.
Another problem for the Owls was questionable shot selection. They connected on just nine out of 28 attempts in the first half. They improved slightly in the second half, hitting 10-22, and were two out of seven in overtime.
One of those iffy attempts can be attributed to center Dragan Sekelja, who launched a 3-pointer with 1:50 to go in the second half. The shot was well off and it turned out to be a wasted possession, drawing the ire of Owls head coach Mike Jarvis.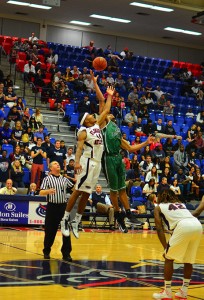 "Hopefully that'll be the last time," Jarvis said of Sekelja's three-point attempt. "You love the fact the guy feels confident, but there's also reality. The reality is, it's not his job (to attempt those shots)."
While FAU undoubtedly stepped up its game down the stretch, employing a zone defense to neutralize the Mean Green's big bodies, fundamental issues led to the loss.
The Owls were careless with the ball, turning it over 12 times. Guard Stefan Moody accounted for six of those turnovers by himself. They were uncharacteristically inconsistent from the free-throw line (10-17), and seemed to commit unnecessary fouls.
Jarvis again pointed to the reality as the reason why his squad ended up on the losing side.
"We're dealing with amateurs," Jarvis said. "That's what makes college basketball good and bad. You're going to see the good, the bad, the ugly at times. We got what we deserved."
The Owls play at Arkansas Little Rock on Thursday, Jan. 24 at 8 p.m.