Men's basketball: Owls blow out Troy 80-59 to complete season sweep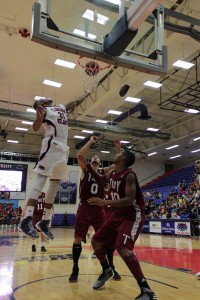 On a night Greg Gantt was honored for his stellar play, the Owls' leading scorer didn't disappoint.
Fueled by Gantt's game-high of 23 points, the Owls blew out Troy 80-59 Thursday night at The Burrow, bumping their season record to 10-9 and Sun Belt conference mark to 5-3.
"That was pretty good effort," FAU head coach Mike Jarvis said. "We shot the ball well, we took much better care of the ball, and we didn't let them come back on us. Overall, I thought it was a good win."
Entering the game fourth in the country in scoring, Gantt recorded his tenth consecutive 20-point outing, and also chipped in four rebounds, two assists, and three steals.
Before the game, the senior guard was recognized in a moment he'll remember forever.
"It's a big honor, it's a blessing," Gantt said. "To be out there in that kind of situation, you just have to thank God for it."
Jarvis was equally as touched.
"Greg is a very special person," Jarvis said. "We always love to see special people rewarded."
However, Gantt was far from the only Owl that found success against the Trojans. Three other guards –– Stefan Moody, Pablo Bertone, and Jackson Trapp –– each finished in the double digits.
Moody had 15 points, three rebounds, and five assists. Bertone totaled 14 points, including four 3-pointers, to go along with four boards and four assists. Trapp, coming off the bench, chipped in 11 points (3-4 from beyond the arc), five assists, and a rebound.
"That's great," Gantt said of his teammates' success. "We spread the ball around well and didn't really take any bad shots. It's great when shots fall for our guys."
As a whole, in fact, FAU set season-highs in two categories: assists (22) and three-pointers (13). They shot 52.5 percent from the field (31-59) and 54 percent from downtown (13-24), scoring 48 points in a second half that was dominated by the Owls.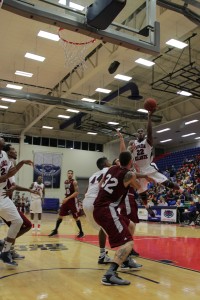 "We wanted to come out and be intense," Gantt said. "We just kept doing what we were doing to push that lead. We worked on our defense, execution, and didn't let up."
The defense, which held Troy to 43 percent shooting, was aided by a solid performance by center Dragan Sekelja.
Although he's lost his starting role to Kelvin Penn, the seven-footer played 21 minutes and made the most of them, scoring six points, hauling in three rebounds, dishing out five assists, and blocking one shot.
The victory is the Owls' fourth in its last five contests, and completes a season sweep of the conference rival Trojans.
Jarvis wants his club to continue moving in the right direction –– forward.
"No matter what business you're in, one of the biggest things you always have to avoid is getting amnesia," Jarvis said. "You want to continue to do the things that are working. If you're winning, you want to keep doing that."
The Owls play North Texas at The Burrow on Saturday, Jan. 19 at 7 p.m.