Lady Owls' interior defense fails, lose 90-86 to ULM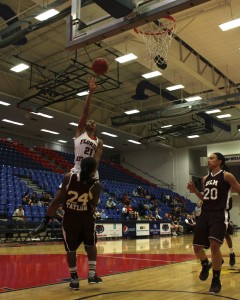 A career scoring night from senior guard Breana Turner went to waste as the Lady Owls lost 90-86 at home to Louisiana-Monroe.
Turner scored 32 points, hitting 11 of her 19 shots, including 10 of her 11 free throws. Her 32 points represented a career high for the redshirt senior. Afterward, however, a disappointed Turner was visibly shaken and saw nothing to celebrate.
"I did okay," Turner said of her performance while fighting back tears. "But it doesn't matter because we lost."
The Lady Owls' problems against ULM tonight boiled down to two things: rebounding and interior defense.
"I mean, we gave up 54 points in the paint to a team that averages 27," Owls head coach Kellie Lewis-Jay said.
ULM scored 54 of their 90 points from close range. In contrast, the Lady Owls were only able to score 26 from the same distance.
As it has been all season, rebounding was yet again an issue for FAU.
ULM snagged 46 total rebounds against the Lady Owls, 17 of which were brought down on the offensive end. FAU's rebounding efforts totalled to 35 boards, 12 of them offensive. The Lady Owls' rebounding, at least statistically, was not bad. Nonetheless, Lewis-Jay was not happy with her team's effort on the glass.
"25 second chance points [for ULM]", added FAU's head coach. "I mean, it's a game we easily had in our hands. I'm trying to figure out how to get them to box out, how to get them to defensive rebound. It's been an issue all year, but tonight it was really apparent."
The Lady Owls have seen a jump in their defensive numbers this season, with the team on track to best their steal and block numbers from last season. Lewis-Jay sees their rebounding woes as cancelling out those defensive improvements.
"We get great stops, force them to take shots they didn't want to take," Lewis-Jay says. "And then we give up an offensive rebound."
The Lady Owls return to The Burrow to face Middle Tennessee on Saturday, Feb. 2 at 3 p.m.