Commentary: OwlTV station manager tweets nearly nude photo of FAU student without her permission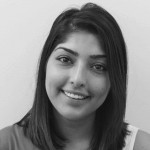 Two administrators talked for two hours Monday morning about the mostly nude photo of a student — and talk is all they did.
Terry Mena, associate dean of students, and Michael Gaede, director of student media, knew the picture would be a problem only after the subject of the photo claimed that OwlTV Station Manager AJ Jordat violated her privacy.
The 20-year-old female student, who wanted to stay anonymous, wants the photo to disappear and her story to be heard. Jordat posted the photo as an official FAU OwlTV tweet on Feb. 16. It shows a woman's body, shoulders down, wearing nothing but a bra and panties. The accompanying tweet: "These 'Spanish girls love me like I'm on Twitter' — she didn't get the memo that sexting is dangerous; at least no face."
So what did these two men do when they got an email from the girl on Feb. 18, claiming that Jordat "violated her privacy and abused his position"? Well, they discussed policy and censorship. In short, political nonsense. They didn't talk about the girl, but about the institution.
In the email, the woman tells her side of the story and details how she came to send the photo: "On Wednesday (2/15) evening, he told me he wanted to make me a 'Hooter Hottie of the Week.' He said I'd have to come in and audition. I didn't want to, and asked if I could just send him a photo. He said I could, and promised he'd be the only one to see it."
Jordat defended his actions and used it as a selling point for "Sex & the University," an upcoming OwlTV show.
"That's the danger of sexting," he explained. A tweet posted by OwlTV soon after the photo was posted read, "We seemed to have shocked our followers with that last Tweet… But that was the point. "Sex & The University" COMING SOON!!"
So, in hopes of talking to someone who is as disturbed by the incident as I am, I turned to Gaede. No luck. As sometimes happens when talking to administrators, I was fed a lot of talk about new policies and "implementing guidelines to assure this doesn't happen again," as Gaede put it.
I was met with similar feedback when speaking to Mena. Talks of guidelines and becoming a more "traditional" student media office took our conversation in directions that helped to avoid the point.
This was no longer a discussion about a young woman who felt humiliated, this became an issue of university policy. I had been looking for some sort of regret and that's the one thing I didn't find. Their university appointed positions aside, Jordat and the administrators still showed no remorse.
The real problem is not one that can be solved with a series bureaucratic ramblings and the induction of even more rules and guidelines. The real problem is that this situation was handled solely by men. The station manager of OwlTV? A man. The director of student media? A man. The associate dean of students? A man. As a result, the woman who felt betrayed was left in the dust while codes of conduct took the spotlight.
"This says something about the male dominance of leadership," explained Gaede. Jordat didn't consider how the young woman would be affected. The men involved in the situation let their positions get the best of them.
As the editor-in-chief of the UP, I commend the Office of Student Media for allowing a news outlet to practice free speech. As a woman, though, this is a problem that should have been addressed without getting distracted by university policy.
The photo should have never been posted online and you don't need to be a "student media leader" to understand that. The photo became the problem. The woman in the photo? She's no longer a factor. How she felt when she realized her body was being used as a gimmick didn't matter anymore — it never really did.
Now, we're left with a woman who feels completely violated and the only thing that matters to the men involved is how new policies and provisions will help "move student media forward."
All of this when, really, someone should have just sat him down and said, AJ, stop being a scumbag.