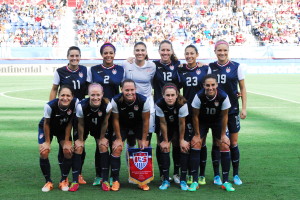 The USA Women's National Soccer Team put on an offensive clinic at the FAU stadium on February 8, confirming their superiority over the Russian National team by  scoring seven goals past them in front of a raucous crowd of 8,857 people.
The game began with the United States getting the majority of the possessions, and Russia sitting deep in their territory, putting 9 players behind the ball and essentially daring the US to break them down. The Russian strategy started to pan out successfully as Coach Tom Sermanni's women failed to convert some early opportunities.
Finally, the scoreless tie was broken in the 29th minute when Carly Lloyd produced a moment of magic, wiggling past a Russian defender before calmly finishing past the Russian keeper, Elvira Todua.
Three minutes later, the United States took a 2-0 lead after Heather O'Reilly fired a left footed shot high into the net after a scramble in the box from a Kristie Lewis cross.
In the 36th minute, Stephanie Cox fed Carly Lloyd at the top of the box, who blasted the shot past Todua for the 3rd goal of the match.
After breezing past through the Russian defense with ease during the first half, the only question on everybody's mind at the beginning of the second half was the amount of goals the United States team would amass in total.
A fourth goal came courtesy of Christen Press who finished a cross from player of the match, Carly Lloyd in the 50th minute.
In the 53rd minute, on a pass from Lauren Holiday, center forward Sydney Leroux managed to get the ball past Todua to make the game 5-0 in favor of the Americans.
The US team added a 6th goal, again from Christen Press, who scored off of a rebound from a Ali Krieger shot saved by the Russian goalie.
In the 58th minute, star forward Abby Wambach made her introduction into the game amid a chorus of cheers from the home crowd.
Soon after she would made her mark on the game. In the 67th minute, Wambach scored her 164th goal for the National team, the most in team history. She scored easily, tapping the ball into an empty net after a pass from Amy Rodriguez. The goal pushed the USA lead to 7-0.
A minute later, Russian defender Valentina Orlova, clearly not happy with her team's deficit, took down Amy Rodriguez, who had an opportunity to score. The vicious slide tackle resulted in a red card for Orlova, who was subsequently ejected from the game.
As the referee blew the final whistle, Coach Sermanni had every reason to be happy with the offensive display from his team on their way to a resounding victory.
The next stop for the USA women will be in Atlanta. In four days, they will play the Russian national team once more.