FAU men's basketball team wins first game of season, defeats Ave Maria 86-51
FAU triumphed over the Gyrenes of Ave Maria University in a 35-point win that saw five Owl players score in double figures.
Ave Maria appeared fatefully unmatched early on, and just seven minutes into the game the Owls opened up a 14-point lead that they would not be relinquished.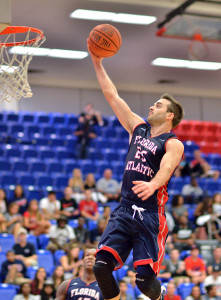 Jarvis was overall pleased with the easy win, and especially that his team did not deviate much from his system, even in the blowout victory.
"These games are sometimes just as difficult to play well in, as games when you're playing a team that you're evenly matched with. What I liked was, that I thought that for the most part, the guys stayed with who are."
Jackson Trapp set a new career high with 23 points, and Bertone added a solid 16 points. Freshman Marquan Botley scored 12 points and added five assists.
The leading scorer for Ave Maria last year, junior Matt Chattin, was held to just 11 points, played very well defensively by the freshman guards Botley and D'Andre Johnson.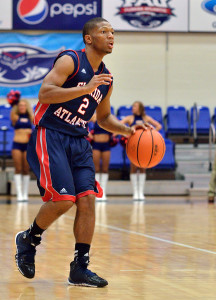 The Owls shot an impressive 14 of 33 from beyond the arc and an impressive 23 assists, the most of which (five) came from freshman Botley.
Jarvis acknowledged that his team will not shoot this impressively night in and night out. "They're not going to shoot this well every night. Eventually' you're going to have 6'6 guys contesting jump shots, and they're not going to go back and play in a zone."
"They're coming to play," Jarvis says in regard to his team's next opponent, St. Francis (NY). "They'll be tough, they're going to try and press us. We're going to have to play some good basketball, and we will."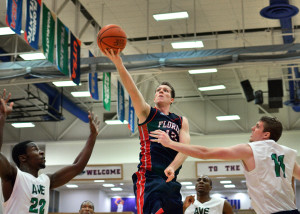 Jarvis knows this team is still a work in progress, and realizes that there is progress to be made. "We've got a lot of work to do, and its got to be a concerted effort by everybody," he says. "I'm not saying I love the team, but I love the group of guys I've got. I'm hoping I'll be able to say I love the team also."
About the Contributors
Wesley Wright, Business Manager / Writer
Marketing major
Previously: Sports writer, sports editor, editor in chief
Started as sports writer
Twitter: @NotEvenWes
Outside of journalism: African-American...
Ryan Murphy, Business Manager
Ryan is a graduate student in the College of Science. He started in 2012 as a staff photographer and has since won several awards for his work at the UP....