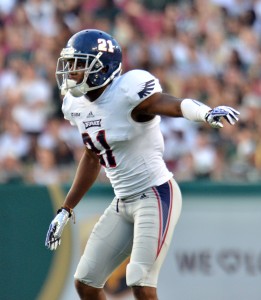 Who: Marshall at FAU
When: Saturday, Oct. 12 at 5 PM ET
Where: FAU Stadium, Boca Raton, FL
TV: Fox College Sports
Radio: ESPN 106.3
Prediction: FAU 31, Marshall 27
Returning to Boca for the season's second home game, FAU (2-4) will take on a Marshall (3-2) team that was picked by pundits to the finish at or near the top of Conference USA this season.
The FAU offense played a solid game against UAB last week, as quarterback Jaquez Johnson threw for 299 yards, two touchdowns and committed zero turnovers in the 37-23 victory.
Both Johnson and running back Jonathan Wallace rushed for over 100 yards against the Blazers. The 280 rushing yards were a season high, as were the 583 total yards of offense that the Owls amassed.
If FAU is to defeat Marshall for its first winning streak since 2010, the offense will need to put together an encore performance.
The task at hand is finding weaknesses in the Marshall defense, which is allowing just 17 points per game game this season, good for a Top 20 ranking in the nation.
In Monday's press conference, FAU Head Coach Carl Pelini called the Marshall defense "physical up front" and praised the overall skill of their secondary.
"They have good skill guys who can cover you," Pelini said.
Johnson will have to minimize turnovers, but also remain efficient in moving the offense down the field. The Owls have proven, with Johnson under center, they can score in bunches if they do not shoot themselves in the foot.
Wallace and Jay Warren, a freshman back who scored the first touchdown of his collegiate career last week, will need to exploit weaknesses in the Marshall front seven to keep the defense guessing.
On the other side of the ball, a pass-heavy Thundering Herd offense is averaging 38.6 points per game, with quarterback Rakeem Cato at the helm. Cato, a product of Miami Central High School, has eleven touchdowns and just four interceptions to go along with a QB rating of 139.6.
The Owls secondary will indeed be tested, especially after losing starting cornerback Keith Reaser to a season-ending ACL tear.
Reaser will be replaced by true freshman defensive back Reggie Brown, who stepped in and "played like a man," according to Pelini.
Pelini added that the FAU coaching staff pulled Brown's redshirt earlier this season because they expected production from him this year after seeing his play on special teams.
To compensate for the loss of Reaser, who was a defensive leader, FAU coaches have moved freshman third-string quarterback DJ Juste to cornerback, a position that he played at Port St. Lucie High School.
Brown and Juste will be playing alongside D'Joun Smith, the Owls' other starting cornerback, and are likely to be tested early and often by Cato.
Cato's favorite weapons is one of Marshall's most dangerous players –– wide receiver Tommy Shuler.
A 5-foot-7 inch junior, Shuler was selected All-Conference USA last year on his way to breaking the school record for receptions. While he doesn't seem to be on his way to a prolific season in 2013, Shuler — also a Miami Central High School alum — is nonetheless a vital cog in the Marshall offense.
Marshall has 34 players from the central and southern regions of Florida, and also has a significant alumni base in this region. It's fair to expect a contingent of Thundering Herd fans to pack FAU Stadium for this game.
For the Owls to win in front of their home fans, Pelini and his staff must conjure up schemes that will hold Marshall's offense at bay, and also keep FAU's offense on the field.
The defense should come ready to play, but the Reaser-less secondary can expect to be attacked from the opening whistle. If the Owls can play inspired and disciplined football, they'll likely enjoy an upset win before their first bye week.
Loading ...