FAU's senior wide receiver is more than helmet and pads — meet the poet with an alleged gas problem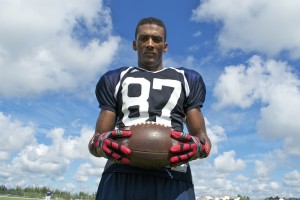 Senior wide receiver Byron Hankerson is doing more on the football field this season than last. For one thing, he's actually playing. Hankerson was deemed academically ineligible last year and thus didn't see a single snap. "It was a big disappointment that I didn't play," he said. "Going into next season, I was gonna be competing for a starting role. So, being ineligible was a big letdown."
In 2010, Hankerson played primarily on the special teams unit, recording an assisted tackle against Arkansas State. 2011 was supposed to be Hankerson's year.
Instead it's 2012. So far this season, the 6-foot-1, 180 pound wide receiver has recorded 152 yards on 10 catches, two of which were touchdowns.
The UP sat down with Hankerson as FAU was getting set for a home game against North Texas. Meet FAU's leading receiver on a redemption tour
So, your mom's from Marianna, Fla. I read that it has a population of about 6,000. Is it really that small? 
It's a really small city. The popular area over there, the City Hall, is the size of the Boca mall. One community college, one high school, one middle school and a couple of elementary schools. We would go up there every summer so I could get to know that side of my family. You know, get the best of both worlds. I enjoyed it a lot.
You said you were big on family. Did that close-knit, small environment foster any of that? 
Yes, it did. I brought that with me to the team. For instance, with the receivers, we break down "receiver love," which is something our coach talked to us about. If I have a problem, I should be able to come to my teammates to talk about it, as well as my coach. So we kinda look out for each other. Growing up in that community, I brought that with me over to the football team and into a lot of aspects of my life.
What was the worst part about not playing last year? 
For my dad, he loves to come to the football games. He wasn't able to come and watch me play. For my teammates, they depended on me as well. They kinda counted on me to get my act together. At the same time, I still brought a positive attitude to practice. Practiced on the scout team, scout offense, so my job was just to give the defense the best look that they can get going into the game. So, I had to play my role.
I saw on the FAU Sports homepage that you read poetry. I imagine some find that odd or different. What can you tell me about it? How'd you get into that? 
Just sitting everyday in class, reading poems and writing papers on poems, it brings out your creative side. The professor wanted us to write a poem about anything we wanted to. So, I wrote about the wind. I showed it to my family, they loved it. They didn't know I wrote poems either.
Speaking of odd, some of your teammates have alleged that you have some sort of gas problem. Can you confirm or deny? 
[laughs] Did you talk to [William] Dukes? Was it Dukes that said that? Well, Dukes is funny, man. He really is. With him, it's always either "you're ugly,""your breath smells," or "you've got a gas problem." Great guy. He has so much potential. He came into the program much farther along than I was when I came in. Great receiver. If he keeps at it, keeps working hard, he should go down as one of the best receivers to come out of this program.
You don't get a whole lot of free time. What do you do if and when you have a day to yourself? 
First, I wake up, and eat Frosted Mini-Wheats, one of my favorite cereals, because you can have it with milk or without milk and you'll still enjoy it. Depending on how early I get up, I'd go fishing. Me and my dad, when I was younger, we always went fishing. As I got into sports, you know, you really don't have time to fish. Best time to fish would be early in the morning and afternoon. I also play Xbox, you know everyone plays that or PS3. My favorite game is COD: [Call of Duty] Black Ops. I also watch movies, I'm a movie buff.
Your former teammate Alfred Morris has made national headlines recently playing for the Washington Redskins. He's the only FAU player to have ever scored an NFL touchdown. So, suppose the NFL doesn't come calling. What's your backup plan? 
My father, brother and myself, we've been trying to start a little business together. We see a lot of churches get their doors knocked by the IRS or something, because their financial situation isn't handled properly. So we wanna provide the services to help these churches take good care of their finances.
Would you consider working in film? Maybe directing? 
Nah, man. I mean, I love films, but the amount of work that goes into making a movie, production, acting, directing and all of that, it's crazy.