Football: Graham Wilbert to start at QB versus Middle Tennessee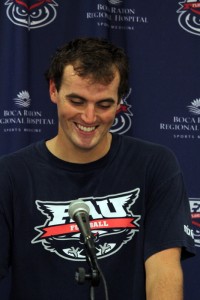 Stephen Curtis' 30 minutes of fame are up.
FAU football head coach Carl Pelini announced via a Sun Belt Conference call on Monday that quarterback Graham Wilbert will start on Saturday, Sept. 8, at Middle Tennessee.
Curtis, a redshirt sophomore, was benched after being shut out in the first half of the season opener against Wagner. In his first-ever college start, he completed 4 of 10 passes, and the Owls had 85 yards of total offense at halftime.
Wilbert, a redshirt senior, stepped in and delivered the game's only touchdown, a 39-yard strike down the middle to Byron Hankerson with 11:36 left in the game.
Pelini was impressed with Wilbert's performance but explained why Curtis got the nod over last year's starter.
"Graham did a tremendous job," Pelini said. "When we decided to go with Stephen [Curtis] we did it based on what our strengths as a team were and what our philosophy of a team was going to have to be this year — we're going to have to run the ball, we're going to have to play good defense, we're going to have to play soundly on special teams, and we felt Stephen [Curtis] being a little bit better runner would fit better with that philosophy."
FAU plays at Middle Tennessee on Saturday, Sept. 8, at 7 p.m.