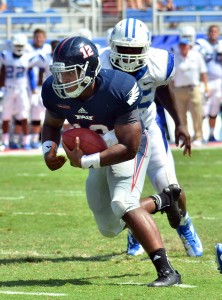 Who: FAU at UAB
When: Saturday, Oct. 5 at 3 PM ET
Where: Legion Field, Birmingham, AL
TV: N/A
Radio: ESPN 106.3
Prediction: FAU 28, UAB 24
Fresh off a tough road loss to Rice, FAU (1-4, 0-3 in Conference USA) plays their next away game this Saturday, facing off against a University of Alabama-Birmingham team (1-3, 0-0) that has challenged itself early in the season with losses to Troy, Vanderbilt and No. 9 LSU.
This will be the fifth away contest of the season for FAU –– who are 3-1 all-time against the Blazers –– and the first C-USA meeting between the teams.
For the Owls to pick up win number two, a viable offensive attack will be required against a vulnerable UAB that ranks 123rd in total defense (42.5 points allowed per game).
UAB's defense gave up 34, 56, and 52 points in the team's three losses this year. Conversely, FAU is averaging just 19.2 points on offense (106th overall), so they'll have to buck the norm to emerge victorious.
A bruised collarbone kept FAU starting quarterback Jaquez Johnson out of last week's game at Rice. True freshman Greg Hankerson started in his place and performed well before imploding in the fourth quarter (two interceptions, one fumble).
Despite praising Hankerson in his weekly press conference, FAU Head Coach Carl Pelini says Johnson will be back under center this week and that he is "leaning towards" ending the quarterback carousel –– again.
To get into a decent rhythm, Johnson needs to utilize all of his weapons. Top wide receiver William Dukes has back-to-back games with a touchdown so his targets should remain high. Johnson will also lean on the running game with leading rusher Jonathan Wallace.
On the opposite side of the ball, a phenomenal defensive effort will be expected against a dangerous Blazers offense (31 points per game, 64th overall).
"[UAB has] scored a lot of points," Pelini said in his press conference. "They are as good of an offensive team as we have faced this year."
Pelini claimed that UAB houses "maybe the best running back [FAU will face] this year" in Darrin Reaves, who already has 411 yards on just 67 carries, averaging a remarkable 6.1 yards per carry.
FAU's secondary, a unit that played spectacularly last week versus Rice quarterback Taylor McHargue (66 passing yards), must be cognizant of speedster receiver Jamarcus Nelson at all times. Nelson leads UAB with 21 receptions for 370 yards and four scores. Pelini identified him as a good test for the Owls' secondary, a strength of the club.
"Our cornerbacks are playing at a high level," Pelini said. "I think they performed admirably."
FAU junior corner D'Joun Smith has totaled an interception in three consecutive games, and will likely be pitted one-on-one versus Nelson. If Smith can maintain his high level of play, it'll force UAB's offense to become more one-dimensional.
As has been the mantra all year for FAU, the offense will need to limit mistakes and the defense has to play up to their potential. UAB are hardly world beaters, but they won't be pushovers, either.
Loading ...