Senior computer engineering major Jason Immerblum stares up at the black and white painting of a Hawaiian girl wearing a pink lei on the wall.
His eyes soon trail from the painting to a red rope. The rope is coming out of the painted girl's hand and turning into a three-dimensional red sculpture of a pig sitting in front of the painting.
"Everything seem[s] very modern," Immerblum says.
While looking at this piece of artwork, he has to constantly remind himself that the artist is not a student. Diane Arrieta, who paints under the moniker "Birds are Nice," is a faculty member affiliated with FAU's MacArthur campus library.
Arrieta created this painting and sculpture to spread awareness of the dangers of Hawaii's non-native feral pigs. Her artwork currently sits in FAU's Ritter Art Gallery.
Artwork from 25 FAU faculty members is featured in both the Schmidt Center Gallery and the Ritter Art Gallery for the 2013 Biennial Faculty Art Exhibition. The exhibit opened on Friday, Sept. 20 at 6 p.m.
"It's a great way for students to see what their professors are working on," Jeanie Geibel, a gallery assistant, said. "And for, not just art students, but all of the students to see what faculty are doing with their art practice."
Both art and non-art teaching faculty members submitted artwork to the exhibition.
Almost 200 students and faculty flooded the Schmidt Center Gallery and 250 filled the Ritter during the opening, viewing a wide variety of faculty artwork — from clay sculptures of alien-like creatures to mixed media, such as a set of mail barcodes going across the wall while piano plays as background music.
"My second favorite piece there was a key, piano keys on the wall," Erica McGriff, a junior theater major, said. "That one was awesome."
The piano keys — which was actually an IM barcode piece — was created by Tammy Knipp, Associate Professor of Art from the Department of Visual Arts and Art History.
"When you look at the bar code, the new one they came out with, it starts looking like these piano keyboards, the black notes," Knipp said.
Sixty-five vertical black bars stretch across the gallery's wall. The bars are all different heights, resembling the new barcode for the postal service's Intelligent Mail, or IM codes. To the side of the sculptures on the wall, stereos play a piano melody composed by Pouya Pourtahmasbi, an FAU post-graduate student from the Department of Music.
"Their old bar code is all in one line.  Now they have what they call a bass line. So I collect them. And so obviously, different zip codes, different pattern. And I was looking at them and was like 'Oh this is an interesting composition,'" Knipp said.
The exhibition features paintings, photography, music, sculptures, video and sound. And the variety of media used becomes a recurring theme throughout the exhibition.
"I was expecting a different type of art, mostly like pictures, one medium," Immerblum said. "I'm surprised to see that there's … different approaches to the artwork for each of the professors that work in here."
Many students are surprised to see such innovative pieces being created by the same people that are usually lecturing in a classroom. "It's interesting," junior public management major, Vanessa Mccalla said. "It shows the realm of what people can do."
"If you didn't tell me that this is artwork from faculty, I would've thought it was work from students, from a younger group of people," Immerblum said. "I can't tell. They're really good."
[divider type="thin"]
What's their age again?
We showed students pictures of some of the pieces on display right now, and had them guess the artist's age. Spoiler alert — they failed: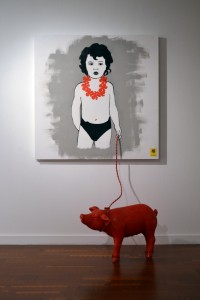 'This Little Piggy' by Diane Arrieta
Gina Marie Schriefer – freshman, criminal justice: "[I think the artist is] 19. They have a young mind."
Arrieta requested not to disclose her exact age, but put herself in the 40+ group.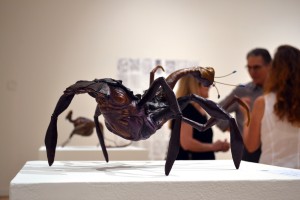 'Wild Riverie II' by Joshua Hunter Davis
Doug Posner – freshman, music: "[I think Davis is in his] early twenties."
Davis is 29.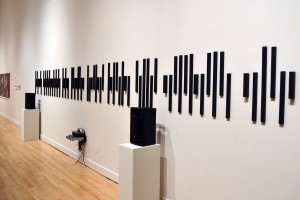 'Musical Landscape of Intelligent Mail' by Tammy Knipp
Vanessa Mccalla – junior, public management "[I think they're] like 19."
Knipp is 55.
[divider type="thin"]
For artist statements on the artwork at the exhibition, visit FAU Galleries' website.