FAU top cornerback Keith Reaser out for season with torn ACL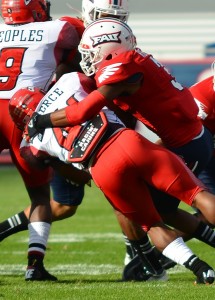 FAU escaped Birmingham, Ala., with a win last weekend, but it came at the expense of top cornerback Keith Reaser.
According to the Sun Sentinel, Reaser has been diagnosed with a torn ACL in his left knee, and will miss the rest of the 2013 season.
Reaser was injured in the fourth quarter of last Saturday's victory over UAB. He was seen walking gingerly with a brace on his knee. Reaser, a senior, is not eligible for a medical redshirt, meaning his collegiate career has come to an end.
Since 2010, Reaser has been a key cog of FAU's secondary, playing in 34 of 36 games over that time. In five games this season, he totaled 24 tackles –– good for fourth on the team –– and three passes defended despite a broken ring finger.
The loss of Reaser is a big blow to Owls secondary that has conceded just 168.7 passing yards per game, which ranks 11th overall in the nation.
In Reaser's absence, FAU coaches have called upon freshman third string quarterback DJ Juste and freshman defensive back Reggie Brown to fill one of the corner spots going forward.
Juste has the requisite experience, having played cornerback at Port St. Lucie High School.
"[The coaches] asked me to come over [to defense] and I'm not going to pass this down," Juste told the Sun Sentinel. "I'm going to help this team any way I can. …It might be a blessing."
FAU Head Coach Carl Pelini is excited about what he's seen from Brown, who also returns kicks.
"Reggie Brown came in and played like a man," Pelini told the Sentinel after the UAB game.
D'Joun Smith, the other Owls' starting cornerback, was briefly injured in last week's game, but returned to action. Smith is leading the country in passes defended with nine and will be tested now as FAU's No. 1 corner.