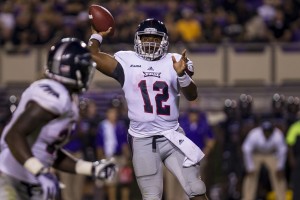 FAU got its first taste of Conference USA action on Thursday night –– and it was anything but sweet.
In a game filled with miscues and missed opportunities, the visiting Owls (0-2) were blown out by East Carolina (2-0), 31-13, in the inaugural meeting of both teams.
Much like in their season-opening loss to Miami, the Owls' Achilles' heel against the Pirates was its stagnant offense.
With sophomore Jaquez Johnson and freshman Greg Hankerson continuing to rotate at quarterback, FAU managed just 282 total yards despite winning the time of possession battle (34:03 to 24:54).
Johnson, who got the start, finished 9-of-14 for 62 yards and an interception, adding another 39 yards on the ground. Hankerson didn't fare much better, going 14-26 for 116 yards with a fumble and interception, and seven rushing yards on five carries.
Hankerson did lead the Owls to their first touchdown of the season, connecting with receiver William Dukes on a two-yard score with 1:03 left in the game.
But the TD proved to be the lone bright spot on the offensive side of the ball.
Both Johnson and Hankerson looked indecisive in the pocket, and it resulted in six total sacks for the ECU defense. Combined with FAU's lack of a running game –– starting running back Jonathan Wallace had just 44 yards on 10 carries –– a multitude of three-and-outs put the Owls' defense in tough spots against a high-octane Pirates offense.
Considering the circumstances, FAU's defense held its own, limiting ECU quarterback and reigning C-USA player of the week Shane Carden to 191 yards and two touchdowns on 17-of-25 passing.
"I thought our defense played well enough to win the game," FAU  Head Coach Carl Pelini told the Sun-Sentinel after the game. "They held that offense to 300 yards and put the pressure on the quarterback and defended the short field a couple times. They did everything we asked them to do."
The defensive effort didn't start swimmingly for the Owls, however. Upon winning the coin toss, the Pirates marched down the field with ease, capping off an eight-play, 81-yard drive with an 18-yard TD pass from Carden.
FAU's defense soon after began to adjust and forced punts, giving the ball back to its offense.
Following a 44-yard field goal by FAU kicker Mitch Anderson and a punt by ECU, wide receiver/punt returner Robert Lohnes set the Owls up at ECU's 27-yard line. But due to consecutive drops from receivers Daniel McKinney and Dukes, the drive stalled and FAU settled for a 46-yard field goal by Anderson.
The Owls pulled to within one point –– trailing ECU 7-6 with 11:55 remaining in the second quarter –– but that was the closest they'd get.
On the ensuing kickoff, ECU's Lance Ray scampered for 85-yards, swinging momentum back in the Pirates' direction and placing them at FAU's 12-yard line. Four plays later, Carden connected on a one-yard touchdown pass, pushing the score to 14-6.
Then, thanks to an interception by Hankerson on the very next series, the Pirates tacked on another score with a seven-yard TD, extending their lead to 21-6.
Prior to halftime, FAU entered ECU territory following a 40-yard reception by receiver Jenson Stoshak, who led the team with two catches for 63 yards. Again, the offense stalled and had to settle for an attempted 38-yard field goal. This time, Anderson hit the upright, failing to cut into the deficit. It was Anderson's first of two misses on the night.
FAU began the second half with more mistakes, as Johnson threw an interception to ECU linebacker Joshua Hawkins, who returned the ball 26 yards to the Owls' five. FAU's defense was able to stifle the Pirates, holding them to a field goal, which brought the score to 24-6.
The Owls' final nail in the coffin came on its next offensive possession, when they turned the ball over on downs. ECU would capitalize, marching 57 yards for a touchdown, effectively ending all hope for FAU at 31-6.
Despite the lopsided score, FAU's defenders have a few positives to take out of the game. The defense recorded three sacks and saw its younger players — like redshirt sophomore defensive lineman Brandin Bryant — step up in the spotlight.
Bryant totaled a team-high eight tackles and knifed into ECU's backfield on a number of occasions. Perhaps most importantly, he conveyed a confidence that could help carry FAU throughout the season.
"We know on defense that there's no quitters," Bryant told the Sun-Sentinel. "We've got that confidence that we shouldn't be scored on, so we played like it."
FAU plays at the University of South Florida on Saturday, Sept. 14 at 7:30 p.m.