FAU quarterback Melvin German ruled academically eligible to play in 2013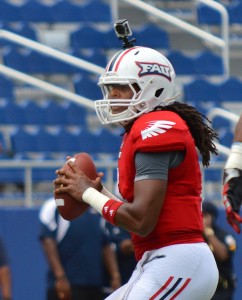 Last year, FAU quarterback Melvin German missed the entire season because of academics, costing him a shot at the starting job.
Fortunately for German, this won't be a repeat occurrence.
The Sun Sentinel reports that German has been ruled academically eligible for the 2013 campaign, which he's expected to open as the starting signal caller.
After his final grades were processed following the summer term, Owls head coach Carl Pelini confirmed that German is indeed good to go.
"He's been given the all clear," Pelini told the Sun Sentinel. "He's eligible."
German, a transfer from Mississippi's Pearl River Community College, didn't meet the necessary grade requirements to play in the 2012 football season, forcing him out of action.
As the Sentinel notes, there was "fear inside FAU camp" that he wouldn't be up to academic standards this year either, but that is no longer a concern.
A dual-threat ability capable of passing and rushing, German has enjoyed a solid training camp. He's leapfrogged both Stephen Curtis and recent junior college transfer Jaquez Johnson to the top spot on FAU's depth chart.
Assuming he continues at his current pace, German will the lead the Owls into Miami for their Aug. 30 season opener against the Hurricanes.