Wilbert, Hinds, Hankerson among former Owls not selected in 2013 NFL Draft
There was no Alfred Morris this year.
After three days and 254 selections, no former FAU players were chosen in the 2013 NFL Draft, which began Thursday night and concluded late Saturday afternoon.
This marks a contrast from the 2012 Draft, when Morris, FAU's all-time leading rusher, was selected by the Redskins in the sixth round and catapulted to NFL stardom.
Following the 2012 season, several Owls seniors – most notably quarterback Graham Wilbert, linebacker David Hinds, and receiver Byron Hankerson – were prepared to follow in Morris' footsteps, revealing their intentions of playing professional football.
Wilbert arguably received the most publicity, with the New York Jets attending FAU's pro day on March 8 and putting him through a private workout.
Last season, Wilbert completed 261 passes for 2,814 yards (64.4 completion percentage), 18 touchdowns and six interceptions. After a slow start to his senior campaign, the 22-year-old Wilbert threw for at least 250 yards in six of his last seven games.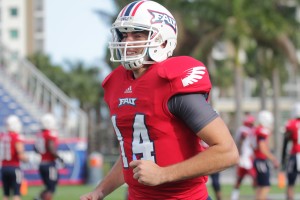 Those numbers made Wilbert a seventh-round developmental prospect, but his chances of landing with the Jets all but ended with their second-round selection of West Virginia quarterback Geno Smith.
The 6-foot-5, 223-pound Hinds, who wasn't invited to February's NFL Combine, began training for his future this offseason. He ran the 40-yard dash in 4.82 and 4.75 seconds, recorded a 31-inch vertical jump, and put up 18 reps of 225 pounds on the bench press, according to NFL.com.
Hinds, a defensive leader during his time at FAU, finished second on the team in tackles in 2012 with 80. Like Wilbert, he was considered a late-round prospect.
Hankerson, a walk-on to the Owls in 2009, also put his skills on display during FAU's pro day.
With 12 scouts in attendance, Hankerson posted a 40-yard dash time of 4.6, while keeping himself in shape by working out with sports performance company Athletes Edge.
Hankerson has the requisite size –– 6-foot-1 –– to play the position, but his thin 180 pound frame and limited experience (just 10 starts) cast doubt on his future. If he doesn't get a shot in the NFL or Canadian Football League (CFL), he's expected to help take over his father's accounting firm, Hankerson & Associations PA.
By going undrafted, each player is now considered an undrafted free agent (UDFA), eligible to sign with any team to compete for a roster spot.