New FAU women's soccer coach Patrick Baker brings his past experience to the program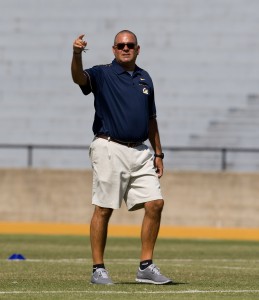 Last season, the FAU women's soccer team came off a dismal 5-13 campaign. They had just lost their longtime head coach, Brian Dooley, to the Missouri Tigers. Things seemed to be in utter disarray.
Enter Patrick Baker.
Baker, who earned Coach of the Year honors with Florida State in 2003, and, most recently, helped build up Cal's soccer program. He is now tasked with reviving the Owls' squad — and ready to take the challenge head on.
"I haven't had an opportunity to work or train the team yet," Baker said. "But we will be preparing to win games and hopefully get to a conference championship caliber very soon. The players know they have a clean slate and Monday, March 11 will be our first step together."
Baker totaled a sparkling 80-46-11 career record with the Seminoles, including a trip to the Final Four in 2003. In five out of his six years in Tallahassee, his team reached the NCAA Tournament, and also advanced to a pair of Sweet 16s.
The man with the plan says the same can eventually be done at FAU.
"You're always a little nervous taking over a new team, but the players have been first class and are looking for a fresh start," Baker said. "After speaking with (FAU Athletic Director) Pat Chun, I share his vision of what the department and the women's soccer program can become in the future."
[divider type="thin"]
In January, Dooley, whose FAU tenure spanned 14 seasons, bolted for an assistant coaching position with the Tigers.
With neither Dooley nor Chun commenting on the specifics of the move, there was some anonymous speculation that Dooley may have been fired for wrongdoing.
After all, just a week later, men's tennis coach Brandon Stokes was dismissed for alleged hazing incidents.
But Courtney Zwetsch, who played for FAU from 2009 to 2012, praises her former coach.
"There were no illegal activities that ever occurred on the team during my four years," Zwetsch said.
Zwetsch said Dooley made sure no NCAA violations occurred, monitoring practice times and food guidelines.
"Coach Dooley followed the rule books to a T … Coach Dooley treated us like we were his kids and really cared for us," Zwetsch said.
"Dooley left because he received a better coaching opportunity," Brittney Nash, a junior forward said. "In coaching, whenever you get a better offer, it is imperative to take the job, and Missouri is a great school."
Nash, one of the squad's most successful members, speaks highly of Dooley, and seems happy that he's moved on to a new chapter. However, she still feels apprehensive to change.
"I think we are all set in our ways and used to how Dooley runs things," Nash said. "Maybe if we get new rules and guidelines to follow we will not be sure how to conform."
But that doesn't mean she isn't excited about new blood being injected into the program.
"Meeting with coach Baker, and getting to know him this far, he seems like a very experienced coach who definitely has what we need," Nash said. "Coming from Cal Berkeley, which is a well known school, can only improve us and and hopefully produce many winning years to come."
Goalkeeper Lauren Berlingo also anticipates positive changes in Baker's regime, calling it an awesome move.
"I am looking for him to bring confidence, structure, and standards to this team. If we have all that, there is no way we cannot succeed."
[divider type="thin"]
As a coach, Baker has accomplished many feats, but it's his stint with the Seminoles — notably the aforementioned 2003 Final Four team — that he calls the proudest span of his collegiate career.
"My time at Florida State was very special," Baker said. "We took a group that was dead last in the ACC and made it into a program that contended for conference and national championships in a very short period of time."
The Owls could use a similar journey, having not recorded more than seven wins in a season since 2007, when they finished 9-8-2.
[quote_right]"Coach Dooley followed the rule books to a T … Coach Dooley treated us like we were his kids and really cared for us."[/quote_right]
Baker is well aware of the challenges that he and his staff face.
"We are taking over a program that has struggled the past few years and will try to get back to be being one of the better teams in the state of Florida," Baker said. "We will implement our system of play, develop the players we have here at FAU and look to enhance the team through the recruiting process."
If the Owls are to get back on the winning track, recruiting figures to play is a major part of the process.
Baker operated as Cal's recruiting coordinator for the past two years, and helped reel in reigning Pac-12 Freshman of the Year Ifeoma Onumonu.
"Building another nationally recognized program and seeing the great potential here made FAU very attractive," Baker said. "The state is blessed with a great deal of talent and we want to bring more of those players here. I love challenges and this is one that I'm eager to get to work on."
That kind of can-do attitude has his previous employer — Golden Bears head women's soccer coach Neil McGuire — speaking highly of him.
"Patrick is an outstanding coach and even better person," McGuire said. "He's a man of great character, handles himself with class, a high level of professionalism and has an incredible coaching acumen and pedigree. He is a tremendous recruiter due to his great ability to connect with people."
Although Baker has his work cut out for him, FAU seemingly couldn't have picked a better man for the job.
"There is no question he will take FAU to the next level, as looking at his history, that is what he does," McGuire said. "This is arguably the best hire of the year in women's soccer."
[divider type="thin"]
Soccer switch:
Over the last decade, Patrick Baker has amassed success at a variety of different programs. From 2000 to 2006, he operated as the Florida State head coach, leading them to a pair of Sweet 16 berths (2000, 2002) and a Final Four appearance (2003). Upon leaving for the Georgia head coaching position in 2007, Baker was the first coach in school history to take three straight Bulldogs teams (2007, 2008, 2009) to the NCAA tournament. Following a stint at Division II Rollins College in 2010, Baker landed at Cal as the women's soccer recruiting coordinator, helping oversee a team that won a combined 28 games in 2011 and 2012. Unlike Dooley, Baker won at least 10 games in every season since 2000.
Let's break it down by the numbers: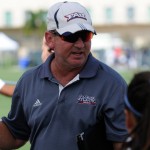 Brian Dooley
2000: 14-6-0
2001: 14-5-1
2002: 14-5-0
2003: 16-4-1
2004: 11-4-3
2005: 16-4-1
2006: 11-8-2
2007: 9-8-2
2008: 7-10-2
2009: 5-12-3
2010: 6-13-0
2011: 6-11-1
2012: 5-13-0
Overall: 134-103-16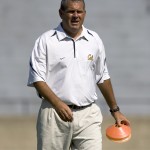 Patrick Baker
2000: 14-8-2
2001: 15-8-1
2002: 13-7-3
2003: 17-8-1
2004: 12-5-3
2005: 12-6-2
2006: 10-9-0
2007: 18-4-2
2008: 11-11-1
2009: 15-6-1
2010: 10-6-1
2011: 12-6-4
2012: 16-6-0
Overall: 175-90-21