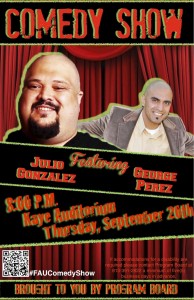 Program Board is getting students ready for Hispanic Heritage Month by bringing two Hispanic comedians to FAU.
Comedians Julio Gonzalez and George Perez will be performing for National Hispanic Heritage Month, which is this October. The show is on Thursday, Sept. 20 at 8 p.m. in the Carole and Barry Kaye Auditorium on the first floor of the Student Union.
"I saw their acts on YouTube,"  Program Board Media Chair Annie Blanc said. "I thought they were funny. I'm excited to bring them here."
"Comedy shows are a pretty good turnout," Blanc said. "So we shoot for 500 plus." The auditorium has 2,400 seats.
FAU paid Gonzalez and Perez $3,500 each to perform. They're both up-and-comers in the comedy world.
Gonzalez got his push to become a comedian from a table of women at a company party, according to his bio on laughstub.com. His jokes are centered on his weight and relationships.
Perez has been doing comedy for a while. "In the past seven years, George [Perez] has had the opportunity to enlighten audiences with his comedy in clubs all across Southern California and the Mid West [sic]," his bio on laughstub.com says.
He has also been seen on television shows on Comedy Central like Loco Comedy Jam and Mind of Mencia, and has starred in three episodes of MTV's Yo Momma.
"As far as the Hispanic Heritage Month concept," Blanc said about the event, "the organization on campus did request it, and we are here for the students."
Show starts at 8 p.m. in the Student Union auditorium. The event is free to students.