Let's take a moment to remember 2011's best athlete, the coach that led him to success and the other guys who, well, weren't as great.
Best coach
Mike Jarvis
FAU basketball coach Mike Jarvis makes less money per year than football coach Howard Schnelleberger. To be exact, $223,655 less. With the success and respect he brought to the basketball program, especially in 2011, Jarvis is a great bargain for FAU.
He does not have the luxury of a $70 million playing facility. Instead he's forced to coach in a cramped, underdeveloped gym. Yet Jarvis produced something for FAU in 2011 that Schnellenberger has not since 2007: a Sun Belt Conference Championship. An eight game win streak fueled the Owls to their best record in school history (21-11) and a spot in the National Invitation Tournament (NIT). But Jarvis is not satisfied with NIT bids. He expects more from his budding program.
"We want to bring the fans a team that will compete in the NCAA tournament in March," Jarvis recently told the UP about a squad that returns five of its top six scorers from last season.
As Jarvis has experienced a revival at FAU, his players have benefited significantly. More important than any wins, Jarvis is teaching his players how to be men on and off the court. He takes his team to Spanish River Church on Sundays and is devoted to being a living testimony of Christ for his players.
"If you're not great you're lousy," he told Greg Gantt during practice last month.
Coach Jarvis surely lived up to that quote himself in 2011.
Worst coach
Howard Schnellenberger
FAU head football coach Howard Schnellenberger has achieved many things during his career, including coaching the University of Miami and winning a national championship with them in 1983. He also created football at FAU in 2001.
None of that mattered in 2011.
For as much success as Schnellenberger had in his 50-plus-year career in football, 2011, his last year of coaching, was one to forget. FAU's Stadium, dubbed "The House Howard Built" by Student Government President Ayden Maher, opened this October. Inside, the life-sized bronze statue of Schnellenberger is a constant reminder of how great he once was, and how low his reputation sank in 2011.
It's a venue that Schnellenberger said is, "The fulfillment of an impossible dream and will be the single most important asset that the university will have to develop a top-of-the-line football team."
His team was shut out in the home opener 20-0 by Western Kentucky, and had the first win of the year on its eleventh try,  defeating  the University of Alabama at Birmingham. Attendance dropped off from 29,000 at the opener to less than 15,000 at the last home game.
Schnellenberger's disappointment of not fielding a competitive team in his last year has left him worn and distraught. He said, "Not being able to win games in the stadium at this time has been the hardest and most difficult thing I've had to endure as a coach."
Best player
Brett Royster
In 2011, FAU senior forward Brett Royster stepped forward as a leader and player. He averaged three blocks per game, winning the Sun Belt Conference Defensive Player of the Year for the second consecutive season, and helped the Owls win the Sun Belt Conference Championship. "He's one of the best shot blockers in the country," said his coach, Mike Jarvis, to the Sun Sentinel last season.
But the humble Royster believed his team's success was greater than his own achievements.
"Winning is the priority," said Royster. "It was definitely more meaningful to win the Defensive Player of the Year after the kind of season we had."
He now plays professionally overseas for the Leicester Riders and is adjusting to a new system.
"The style of play over here is different," said Royster. "But each day I'm getting better and learning how to adjust."
His new coach, Rob Paternostro, appreciates the effort that Royster brings defensively.
"One of our weaknesses right now is protection of the basket," said Paternostro on www.leicesterriders.co.uk. "Paint protection and rim protection is what we needed and that's what Brett has made his name doing."
As the defensive anchor of a conference champion team, who also secured a professional career, no player was more important in 2011 than Brett Royster.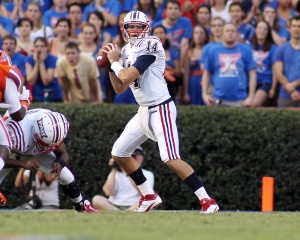 Worst Player
Graham Wilbert
No player is more to blame for the woes of FAU's epically bad, 1-11 football team in 2011 than  quarterback Graham Wilbert. One of his biggest regrets should be a loss at Louisiana-Lafayette, a game that required a late fourth quarter rally and came up short by a score of 37-34.
Wilbert is a constant source of frustration for FAU fans, as his erratic play resulted in a 1-11 record this season for the Owls. After the blowout loss to FIU, a fan on the FAU Sports Sun-Sentinel message board said "Three pathetic throws! My daughter who played softball in college can throw harder [than Wilbert]." Wilbert had three games with at least three interceptions this season.
"I just got to make plays when it's required of me and take care of the football by trying to limit turnovers and mistakes,"  he said. "It's about executing and doing the right things on every play."
Yet his defining moment came at home against Middle Tennessee, as opposing quarterback Logan Kilgore completed his first 19 passes in the first half, while Wilbert completed 41 percent of his passes and completed 10 passes — all game.