FAU's newly renamed Burrow Bar and Grill in the Student Union, filled with over a hundred people sitting in booths and tables, looking forward to the pairing of live music, beer and bar food. And for a restaurant whose maximum capacity is 130 people, that means it was a full house.
On Thursday evening, Sept. 26, Hoot/Wisdom Recordings — FAU's record label — put on a free concert with four of their current artists, Anthony Vincent, Chris Aiello, Grace Kimmel and Erica Morgan as well as  former artist Alex Kinsey, with his girlfriend Sierra Deaton.
"This was one of our highest attended concerts we've ever hosted," said Hoot/Wisdom Records president, Matt Smith. "I'm happy with the turnout."
The three current artists are featured on Hoot/Wisdom's newest compilation album, and Kinsey and Deaton are enjoying their newfound fame as contestants on this season of X Factor.
Vincent opened the show, taking the stage in a casual t-shirt, jeans and an acoustic guitar. He got the audience into the concert mood with four songs. Vincent ended his set with a Backstreet Boys cover.
Aiello followed winning the crowd over with covers of Sublime's "What I Got" and "Doin' Time." Audience members clapped and sang along with the tunes.
"Chris Aiello is one of the most talented artists on CompOWLation III's duel album," said junior commercial music major Jessica DeMeo, who helped work on the album. Aiello closed out his set with a slowed down cover of "Radioactive" by Imagine Dragons.
Kimmel was the third to play. She had two background singers in her performance who switched off between songs. Her soulful voice and cool demeanor was loved by the crowd as they cheered her on during her opening song, a cover of Lorde's "Royals."
Kimmel finished her performance with a cover of "Cups" by Anna Kendrick, a song most people know from the movie "Pitch Perfect." "Grace Kimmel was really good," said freshman commercial music major Robert Sulmonte. "I hadn't heard her prior to the show and I was definitely impressed."  Kimmel even brought a table and cups onto the stage, and along with one of her background singers, performed the song with cups as their only instruments, just like in the film.
Erica Morgan, a country artist complete with cowboy boots and acoustic guitar, stepped onto the stage. Morgan played covers of Miranda Lambert and Taylor Swift as well as a few of her original songs.
"I'm not a huge fan of country, but she is really talented," Sulmonte said. "She [is] a good songwriter."
The final act of the night was Alex Kinsey and Sierra Deaton, now known for their spot on the X-Factor. The chemistry between them is apparent onstage, as they look at each other, smiling, and their voices blend together beautifully. They opened with a cover of "Home" by Phillip Phillips.
During their cover of "Locked out of Heaven" by Bruno Mars, everyone in the crowd kept staring at the televisions scattered around The Burrow. The X-Factor was airing on the screens as the two were playing. The audience waited to see Alex and Sierra on the show. When the screen showed them making it to the next round, everyone started applauding and yelling, throwing the duet off a tad.
"I'm sorry, I forgot the words," Deaton said after the song. "I was distracted."
"It's okay, it's exciting," Kinsey said. The couple continued playing some of Kinsey's original songs and a cover by The Civil Wars, which perfectly matched their voices.
"Tell a joke!" Kinsey said to Deaton in between songs.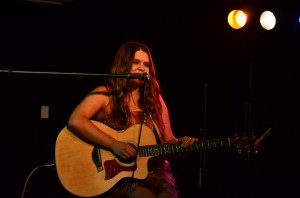 "How do mermaids have babies?" She asked the crowd, to which she then responded with "[a] sea -section!" making the audience giggle.
Throughout their set, Kinsey and Deaton, as well as most of the audience kept glancing at the television screens to watch the X-Factor.
"I wish I knew what we were saying," Deaton said between songs. "It was probably embarrassing."
The couple went into their cover of "Toxic" by Britney Spears, the song that won all four judges over on their X-Factor audition. In the middle of the song, they switched it up and threw in the chorus of "Thrift Shop" by Macklemore, then effortlessly went back to "Toxic".
"That's how we were supposed to do it," Deaton said about their X-Factor audition. The two went into their final song, an original by Kinsey featured on the previous Hoot/Wisdom compilation.
"It's really cool to see someone from FAU on a show like the X-Factor," said Laura Baughman, a junior education major. "They are great artists who deserve the recognition and I'm excited to see how far they make it on the show."
To hear more from these artists, be sure to check out Hoot/Wisdom Recordings newest album "CompOWLation Volume III," featuring Aiello, Kimmel and Morgan, and watch this season of the X-Factor to support Kinsey.