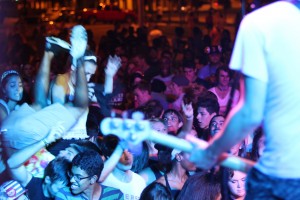 This year, attendance dropped at the annual FAU bonfire — but at least the headliner got to actually finish its set.
On the night of Thursday, Aug. 29, bands took the outdoor stage, near the track and field, and FAU hosted its tallest bonfire yet.
"[The bonfire] measured 20 feet," Mike Burdman, the Student Involvement and Leadership coordinator who organizes the annual event, said. Last year, it measured about 15 feet, according to him.
FAU's sixth annual bonfire featured the school's cheerleaders, dance team, mascot, football team captains, head football coach Carl Pellini and — at the end of the night — ska-punk band Less Than Jake.
At 7 p.m., Heart of the Matter took the stage. The band's pop-punk sound had about 100 students dancing along within seconds. "We drove eleven hundred miles to come down here," lead singer Mike Serino said to a cheering crowd. The five musicians hailing from Sussex, N.J., were feeling the south Florida heat, some shirtless, some sporting tank tops, but the warm weather wasn't a new experience for any of them.
For Jerry Caiafa, lead guitarist, the visit was more like a family reunion. "It felt great seeing Mike again," Caiafa said about his cousin, Burdman. "Mike and I get along very well. He's like a brother to me. We wear each other's underwear." They were also here for the bonfire last year, to open for the Misfits.
"We were so excited when we heard we were coming back to FAU," Adam Romano, the band's drummer and backup vocalist said. "[It] was well worth the trip from Jersey. Every time we come down to Florida, it's more fun than the last time and I hope we have more dates to rock in the future with FAU."
Next up was reggae band, ARTIKaL Sound System, a band made up of FAU alumni. The band's steady rhythm section was made up of four people. They wore sunglasses and casual clothing. But instead of one vocalist, the band rotated between four different singers.  First was a singer referred to as Uncle Sam. The group played a mix of reggae standards and pop covers like The Eagles' "Hotel California."
As Uncle Sam ran off stage, ARTIKaL Sound System kept playing reggae grooves while the next singer was announced from backstage. "Presenting the cousin of Bob Marley … Alex Marley." Marley came out wearing sunglasses, his thin dreads hung long — well past his shoulders — and swung over his grey suit. Fittingly, he sang "Legalize It," a song made famous by Peter Tosh, who played in The Wailers with Bob Marley.
"What's up? I love marijuana," yelled the group's next singer, RedLyte. Puffs of smoke filled the air. Suddenly the food trucks FAU hired for the night — one for burgers, one for french fries, and one for frozen yogurt — made perfect sense.
RedLyte and the group's fourth and final guest, Biggz General, grandson of Bob Marley, both performed at FAU's Homecoming performance last year and it seemed like the crowd was happy to have them back.
"It was amazing. I loved [ARTIKaL Sound System's set]. I let my hair out, it was just fun," junior biology major Fredrica Miller said.
Soon after, the bonfire ignited and the orange glow radiated over the faces of the crowd — who numbered 2,400 people, according to Burdman.
At 9:12 p.m. the crowd grew restless. Chants for Less Than Jake broke out in the audience while the band's backdrop rose up from the back of the stage. Minutes later, Less Than Jake took the stage and broke into "Plastic Cup Politics."
"Boca Raton, how're you doing?" yelled the members. The crowd jumped up and down, surfed and sang along word-for-word as the band played songs like "The Ghosts of Me and You" and "History of a Boring Town."
"We like playing colleges," guitarist and vocalist Chris Demakes said to the crowd. "You people are better looking than we are."
The band did have one complaint.  "We're a little pissed off," Demakes said. "We were told this was an all-girls Christian college."
But, the 21-year-old band knew what FAU had to offer. They played another outdoor show at FAU back in 1999. "We have tattoos that are older than some of you people," Demakes told the crowd.
Less Than Jake's hour and a half set included songs off its 2003 album "Anthem," and featured its signature upbeat ska-punk sound full of fast-climbing bass lines, full guitar chords, doubletime beats and a warm horn section (made up of a trombone and a bright purple alto sax).
"They were awesome," Peter Reynolds, a junior art history major, said. "I've seen them once before. It was definitely better this time."
The once rolling flames shrunk to a low flicker, but the band wasn't ready to quit yet. "The fire's still burning up here, baby," the group's lead singer and bassist Roger Manganelli said.
After the show Manganelli remarked, "the show was stellar-fantastic-amazing. I could feel the heat coming from the bonfire, and I could feel the heat coming from my bass guitar."
As the band played a fun upbeat cover of the "Animaniacs" theme song, a fight broke out in the crowd, causing Less Than Jake to stop playing mid-song.
"That's not cool," Demakes said. "That makes me wanna leave."
Cue flashbacks to last year's bonfire, when The Misfit's set was cut short by FAU Police due to a rowdy crowd.
The band stood, instruments hanging, looking into the crowd as security intervened.
"We should make them kiss!" chimed in Manganelli. "On stage!" Soon the band was back at it — "Skank like it's 1998 or break dance like it's 1982," Manganelli said — crisis averted.
The band performed a few of their more popular songs, such as "Last One Out of Liberty City."
"I just transferred here from Massachusetts," Trevor Dixon, a junior psychology major said. "It's so much more fun here. That was amazing [and] so much fun. All the bands were so amazing and so different."
The band traveled about 300 miles to perform at FAU before returning back to Gainesville for a Labor Day weekend tour.
The band finally closed — as they often do — with "Gainesville Rock City."
"It was really cool, the show was really cool," Vinnie Fiorello, drummer for Less Than Jake, said. "A lot of energy, and a lot of fun for us to come down four hours from our home in Gainesville to FAU."
[tn3 origin="image" ids="255,254,253,252,251,250″]