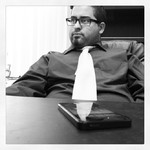 Student Body President Peter Amirato and 10 other members of FAU's Board of Trustees — the appointed officials who approve how your tuition is spent and who the next university president will be — selected a company to help search for the seventh president in a conference-call meeting today.
By the end of the call, the Board also approved a 1.7 percent cost-of-living tuition increase for undergraduates, but that won't cost you any more than you're already paying this year. Then the Trustees decided to change FAU's Capital Improvement Plan, a five-year set of goals for the university's facilities, so the university could spend $45 million on a new, on-campus hotel and conference center instead of $120 million on a new dormitory and parking garage four.
Although the undergraduate base tuition rate rose from $103.32 per credit hour to $105.07 per credit hour, students won't see their tuition and fees rise at all this year, according to Amirato and Interim Senior Vice President of Financial Affairs Dorothy Russell, who replaced now Interim President Dennis Crudele.
Amirato, whose tuition is paid for with the Activities and Services fee all students pay in their tuition and fees, did not struggle to cast his vote.
"It wasn't a tough decision at all, it's actually really good news for students," Amirato said.
Russell agreed.
"We haven't actually concretely looked at the process right this moment," Russell said, because her department did not know how the Board would vote on the increase. "We're going to waive it… if the student is not going to be charged that fee, of course it's a good thing. It is in concert with what the governor has asked us to do, which is hold the line on tuition increases."
Earlier this year, Gov. Rick Scott asked universities to forego tuition increases, the Gainesville Sun reported. UF and FSU approved the 1.7 percent increase anyway, while FAU and Florida Gulf Coast University approved the increase and then waived it for students. Russell said students can look forward to a credit on their tuition statements for the same amount of the increase, so the cost remains the same.
As for the 200-room, 250,000 square foot on-campus hotel added to the Capital Improvement Plan today, Crudele said it would be fully funded by a private partner. Amirato, the only student trustee and a former FAU tour guide, thinks the hotel could help.
"You see a lot of families come from other states. It'll be a lot more convenient for them to have a place right on-campus for when they're visiting FAU," Amirato said. "It'll make it more accessible, really, to people from all different parts of the country,"
UF and USF both have on-campus hotels, according to the South Florida Business Journal.
Tension then arose when the trustees decided which company to entrust with finding candidates to be FAU's next president.
"I don't think we should go with the same company that gave us losers," Trustee Feingold said about R. William Funk & Associates, the firm that oversaw the search and hiring pool that led to former FAU president Mary Jane Saunders' hiring.
Trustee David Feder agreed with Feingold, adding that FAU should go in a different direction.
"It would be a good idea if we use a clean slate," Feder said.
The Board voted to hire Parker Executive Search to narrow the list of candidates to be the next president.
[In a previous version of this story , the headline did not mention the tuition waiver. This has since been corrected.]