FAU's "Jesus Stomp" Professor Deandre Poole Reinstated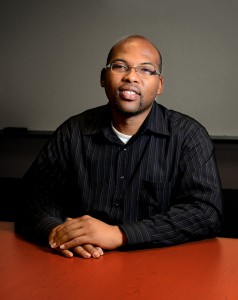 Over three months ago FAU Communications professor, Deandre Poole, was threatened by student Ryan Rotela, for what became known nationally as the "Jesus Stomping" exercise. Now, Rotela wants to sit with Poole over Starbucks.

But since the controversial exercise made national headlines, Poole was placed on administrative leave for safety reasons, and then rehired to teach online classes.

Between being placed on leave and being rehired, Poole's job status was unknown until a few weeks ago, when Interim Dean of the Dorothy F. Schmidt College of Arts and Letters Heather Coltman announced his reinstatement on June 21st.

Poole's class, Intercultural Communications, was being taught on the Davie campus when the controversy went national. Almost immediately, FAU administration issued a video apology for the assignment. The exercise came straight out of the book, Intercultural Communication: A Contextual Approach, and asked students to write the name "Jesus" on a piece of paper, place it on the ground, and step onto it. It was meant to teach the importance of literal and figurative symbols.

Jim Neuliep, a Christian scholar, wrote the textbook. He told Inside Higher Ed that the criticism of the exercise is wrong, and that it is not anti-religious. Neuliep and Poole are both Christians, with Neuliep teaching at a small Catholic school in Wisconsin and Poole describing himself as very religious, naming Jesus as his Lord and Savior.

"We have a lot of students in communications. A lot of the classes are generally full and Dr. Poole is very qualified," Coltman told the UP. "Enrollment is up. We want him back in the classroom."

As part of his new contract, Poole is teaching online courses for his first two semesters back.

Of the 23 students who were in Poole's class, 20 signed a petition showing their support for him. The petition was given to the UP and was used by administration in their consideration for rehiring.

"They are the reason I love my job, why I'm here. We're all here to learn; students learning from students and students learning from professors," Poole told the UP.

[divider type="thin"]
Academic Freedom
In FAU's decision to place Poole on administrative leave, Senior Vice President of Student Affairs Charles Brown said the university embraced the academic freedom Poole exercised by teaching the assignment. In an apology video, Brown later claimed the university did not uphold that freedom when it was assigned.
"Based on the offensive nature of this exercise, we will not use it again," Brown said. "It was insensitive and hurtful, and we are truly sorry."
Poole told the UP in an interview, "The hallmark of institution of higher learning is academic freedom. We are moving forward."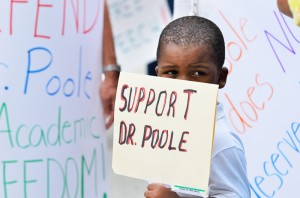 The UP asked Poole if he thought his contract with FAU would be renewed or not.
"A lot of thoughts came into my mind, and of course that was one of them." Poole explained. "I was happy to get back to work with my students. It's very- I'm just very ecstatic to get back to my students."
Alejandra Parada, one of Poole's students, told the UP, "The class work activities were meant to be controversial but they got us thinking about what intercultural communication is."
Parada took three classes with Poole last Spring, and was in the class when the incident occurred.
"I think students are very good at determining how serious and good a faculty member is," Coltman said. "Many students that I spoke to told me he was the reason they would drive down to Davie to take one of his courses. He's a dedicated teacher who connects well with students."
Despite Poole's praise and support before and after the "Jesus Stomping" incident, he did receive hate-mail. Until a threat no longer exists, he feels it would be best to teach his courses online. Poole also mentioned that he will not be teaching the Intercultural Communications (SPC 3710) course that he was teaching when the controversy sparked.
Provost Brenda Claiborne sent an email to provide instructions if threats resurface in Poole's direction. People aware of such threats are instructed to inform FAU Police at 561-297-3500 immediately with all pertinent information.
The UP reached out to Rotela for his thoughts on Poole's reinstatement. Rotela was the student who refused to write Jesus' name on the paper and step on it and allegedly told Poole he "wanted to hit him."
The UP spoke to Rotela, a Mormon, by phone from Utah.
"I always said I never had any hate for the professor. I don't consider the professor a bad guy, or a good guy. I just consider him a human," Rotela explained. "People make mistakes and people make good decisions. So I don't have any strong feeling of 'he shouldn't be in his job.' You know, if the university feels like he deserves to be in that job, and he has the right type of training to handle a classroom of students, then go for it. He should have his job."
Rotela said he would love to sit down for some coffee and "kick the can" with Poole.
Poole explained he would have to talk to his colleagues about meeting with Rotela, but was not opposed to the idea.
After his first week of online teaching, Poole says the class is going well, and the university is making it as easy as possible.
In his online class, Poole is using the Blackboard tool Collaborate to video conference with students, send emails, announcements, and grade assignments. He explains that the dynamics of online teaching are different, but the technology has improved to make it easy for anyone new to learn.
Poole's $43,000 contract was renewed for another year at FAU.
"FAU Provost Brenda Claiborne and [Interim] President Dennis Crudele also expressed their full support of the efforts to fulfill the university's academic mission and responsibilities," Director of Media Relations Lisa Metcalf said in a press release.
About the Writer
Austen Erblat, Staff Reporter
Austen is an interdisciplinary studies major with a pre-law focus and a commercial music business minor. He joined the UP in 2013 as a news writer and...