Less than a month after canceling a full meeting, some of FAU's Board of Trustees — the university's 13 officials who vote on tuition and other decisions — welcomed two new members and a new acting president earlier today.
Three of the BOT's five committees approved a new annual operating budget, new admission requirements for military veterans, a renovation to their meeting room, and a Treasure Coast campus leasing. (These decisions become official if the BOT approves them at its June 11 meeting.)
All of that was approved with two seats still empty on the Board — one that's been empty since a woman appointed to the BOT turned down the job, and another left vacant by a Trustee who didn't show up today because her job was not secured on paper, even after serving two years on the Board.
[divider type="thin"]
Two newbies, two vacancies
Before the meeting started, BOT Chair Anthony Barbar explained that Trustee Angela Graham-West's term expired in May — even though she was in the second year of a six-year term. Then he added this: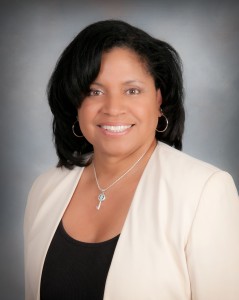 "We'll be inviting her back in the Fall," Barbar said.
According to Graham-West's page on the BOT website, however, she was appointed by Florida Governor Rick Scott in May 2011. And earlier today, the Sun-Sentinel reported the Florida Senate never actually confirmed Graham-West's appointment.
"My understanding is my paperwork wasn't in," Graham-West told the Sentinel. "That's all it was."
During the same meeting where Graham-West's removal was announced, the BOT welcomed two new members. One of them, Student Body President Peter Amirato, was appointed by the students in an election last semester.
"I do greatly appreciate the opportunity to serve on this Board," Amirato told the other Trustees in his introduction to the Board. According to Amirato, Florida is one of three states in the country where the student body president sits on the BOT. "So apparently," he said, "when I go to conferences, I'll be a rockstar of sorts."
When the Board voted on its 2013 Work Plan, an outline of the university's priorities, Amirato shared his view on the university's future, which differs from former Student Body President Robert Huffman's.
"I embrace the fact that FAU is not a traditional university … I do not wish for us to one day be exactly like UF or FSU," Amirato said. "I absolutely love the fact that at FAU, we are in the middle of an entire South Florida community, where we can give people the opportunity to better themselves with an education…I don't aspire to be UF, or FSU, it's what makes us unique."
The other new Trustee was the new University Faculty Senate President Ronald Nyhan, who replaced former Trustee William McDaniel. While Amirato did not vote on next year's operating budget, because he does not sit on the committee that approved it, or the campus leasing, Nyhan did.
[divider type="thin"]
Port St. Leased
When the Board's Audit and Finance Committee met to approve FAU's 2013 – 2014 Operating Budget, and the formal "transfer of Port St. Lucie property" to Indian River State College, some Trustees could not agree on the budget or the decision to lease a campus.
"You didn't bring it up to the Board before now," Trustee Jeffrey Feingold, who donated $250,000 to renovate the BOT meeting room and rename it after himself and his wife, told Acting President Dennis Crudele about leasing the Treasure Coast campus.
Last year, a $24.7 million cut in state funding led the university to defund and suspend its Port St. Lucie campus last June, then to allow its partner on the campus –– Indian River State College –– to borrow the abandoned property as long as it paid the maintenance cost.
This saved the university about $1.9 million a year, according to Crudele.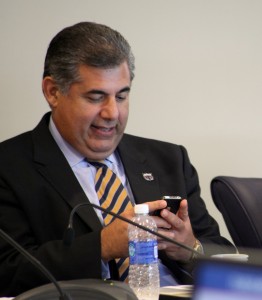 "Sometimes you give something away, you can't get it back," Feingold said. "You've got to discuss it with this board a little further, then come back with a report, not to say 'now it's a done deal and we need our approval' because I don't think it's in the best interests long-term."
"When you give something away, for nothing, and then you want something back," Feingold said, "you have nothing to trade, and to me, that doesn't make any sense."
Feingold and Trustee Julius Teske voted against transferring the campus property to IRSC, but the lease was still approved.
After that came the Operating Budget for FAU's 2013-2014 fiscal year, which is 10.4 percent larger than last year's budget, restores the $24.7 million cut, and raises faculty salaries for the first time in six years.
When the Board dissected the budget, Trustee Paul Tanner criticized it.
"If you look at best practices across the State University System, the budget document rightfully looks more like a phone book than, you know, a skinny document," Tanner said as he held up the 20-page budget, before dropping it on the table before him.
Tanner voted against approving next year's budget. It was still approved.
Check Upressonline.com on June 11, when the full Board of Trustees votes these decisions, then again from June 18 to June 20, when the Florida Board of Governors meets to vote on these decisions and make them official or not.